Netflix's #BlackAF is not the first show Kenya Barris has ever based on his life, but it's certainly the first to star him as a heightened version of himself.
Inspired by and compared to Curb Your Enthusiasm, Kenya plays a TV producer named Kenya with a wife named Joya and six kids, the eldest of which is making a documentary about her messy family. Like with his show black-sh, there are many parallels to Kenya's off-camera life. But there are some key differences to note about Kenya Barris' wife and kids in real life.
First off, Kenya Barris' wife is soon to be his ex.
On #blackAF, Kenya is married to Joya, played by Rashida Jones, a lawyer who has stepped back a bit from her career while raising their four kids. In reality, Kenya's wife of 20 years is a bit more like black-ish's Dr. Rainbow Johnson, at least on paper. Dr. Rania "Rainbow" Barris not only shares the same first name as the character played by Tracee Ellis-Ross, but also her occupation, as both Rainbows are anesthesiologists.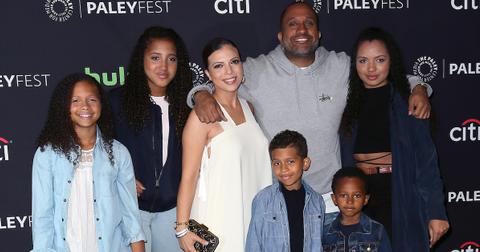 Like both her fictional counterparts, Dr. Barris and her husband have six kids. However, though both black-ish and #BlackAF depict Kenya's semi-autobiographical marriages going through some tough times, life tends to work out more often on TV than in real life. On August 9, 2019, Kenya's 45th birthday, he filed for divorce.
It's not the first time the couple has separated. Rania filed for divorce in 2014, but the couple reconciled and withdrew their divorce petition a year later. It is unclear whether the couple has yet finalized.
Kenya Barris filed for joint custody of four of his six kids.
Kenya and Rania have two adult daughters, Kaleigh and Leyah, but the other four  — Lola, Beau, Kass, and Brooklyn — are all between the ages of 14 and 3. It sounds like the couple agrees to share custody, and Kenya also agreed to pay spousal support.
It's not clear whether the Barrises, who wed in 1999, have a prenuptial agreement. If not, Dr. Barris would be eligible to see half of their assets and wealth, which is pretty considerable, given the fact Kenya has a $100M development deal with Netflix on top of his wealth and income from his three shows currently airing on ABC and Freeform.
It seems Kenya and Rainbow's divorce is amicable.
The Barrises have a lot of history, having known each other since high school, and even if their marriage is ending, it's clear their partnership will never be over. Just a few days after filing for divorce, Kenya wished Rainbow a happy birthday (their birthdays are nine days apart), calling her his forever partner and forever friend.
Kenya may have a type, though, because there are rumors he is currently dating one of his fictional wives, Tracee Ellis Ross. However, neither has confirmed or denied the rumors that their relationship has grown beyond the professional relationship they've had for the past several years.
You can check out the latest casting calls and Entertainment News by clicking: Click Here
Click the logo below to go to the Home Page of the Website
Click the logo below to follow ETInside on Twitter
Click the logo below to follow ETInside on Facebook

Click the logo below to follow ETInside on Instagram

Click the logo below to follow ETInside on Pinterest

Click the logo below to follow ETInside on Medium