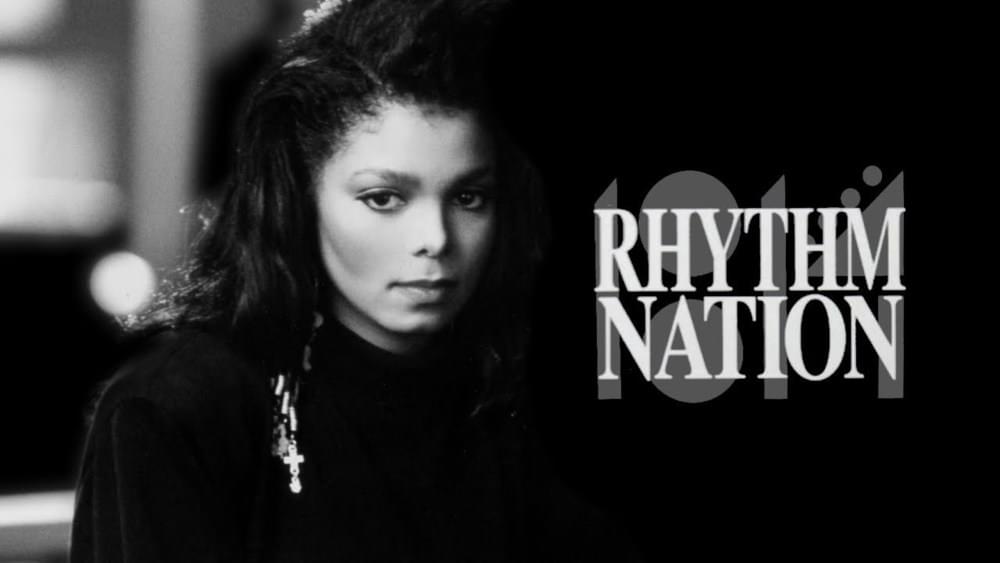 In celebration of Janet Jackson's Vegas residency, each Thursday in the month of May, ETI takes an in-depth look at a significant album from her past. After her 1986 album Control and its assertion of her identity as an artist, Janet Jackson was thinking big. Rhythm Nation 1814 is a thrilling mix of social messaging and dancefloor pleasure. On a scale of 1 – 10, we give it a 9.5.
The United States in 1989 was awash in conservatism, discord, and dissent—George H.W. Bush assumed the U.S. presidency after two terms of Reagan, gun violence was on the rise, the crack epidemic was in full swing. But with the imminent shift in decades, so too opened up possibilities. Grassroots organizing for Earth Day 1990 was underway, a worldwide effort for environmental awareness that seemed to singlehandedly make recycling an imperative status quo. Members of the AIDS advocacy group ACT UP protested St. Patrick's Cathedral and crashed the New York Stock Exchange to protest regressive views and HIV drug profiteering. KRS-One created the "Stop the Violence" movement, leading to a broad coalition of rappers to cut a song, "Self Destruction," that would benefit the National Urban League. Hope sprung anew for a fresh era, and it was all manifesting in pools of revitalized activism across the country.
In other words, it was "time to give a damn, let's work together," as 23-year-old Janet Jackson sang on "Rhythm Nation," the title track of her fourth proper album, a passionate entreaty delivered with the choreography of a boxer's pose and an iconic military kick. Rhythm Nation 1814 was the pop album that defined this moment on the brink, one that reflected Jackson's exposure to the rise of 24-hour news, which influenced the album in the form of channel-surfing interludes and the urgency of a new political awakening. In response to what she saw as a world crumbling around her, Jackson explicitly laid out her own vision of a global anti-racist utopia, while actually creating such a space within an album that had no genre or topical boundaries. It was brawny and righteous; heard alongside her independence-asserting 1986 release Control, Rhythm Nation 1814represented the full-spectrum actualizing of her womanhood, juxtaposing emotional, physical, and political power with the first visuals of Jackson as a dyed-in-the-wool sex symbol.
Rhythm Nation 1814 became the rare album to combine multi-platinum-selling pop music and explicit social messages without crossing the line into preachiness. The ironclad songwriting of the still-going power trio of Jackson, Jimmy Jam, and Terry Lewis had a lot to do with that—at this point, they were infusing their synth funk with looser, layered rhythms and exploring the distance between funk and metal. Her vocals were often considered breathy and lilting, but on this album, Jackson established her lion's roar, even at her uppermost pitch. The title track incorporated the muscled riff from "Thank You (Falettinme Be Mice Elf Agin)," connecting Sly Stone's own sociopolitical message to hers. But its syncopated kicks and Jackson's self-assured mission were resolutely contemporary, the result of a time when tape splicing and sampling were considered the zenith of pop experimentation.
https://www.youtube.com/watch?v=y0QR65-QAP0
In that sense, Rhythm not only dovetailed with a political era in hip-hop, a genre with a heavy stylistic influence on the album—Public Enemy's It Takes a Nation of Millions to Hold Us Back and Salt-n-Pepa's Blacks' Magic bookended Rhythm Nation's release, as did Spike Lee's Do the Right Thing—but it set a precedent for conceptual pop albums far beyond it. For one, the absurdly derided "militancy" of Beyoncé's powerful Black Panther-alluding Superbowl performance, as well as Lemonade as both a visual epic and political statement, have clear and undeniable precedents in 1814's militaristic, optimistic critique. (MTV aired Rhythm Nation 1814 FILM, the visual album Jackson termed a "telemusical," in an hour-long special, a trendsetting antecedent to Lemonade and a postscript to her brother Michael's Thriller epic. Young viewers rushed to wear metal-plated ballcaps and dangle their house keys from a single ear.) With it, Jackson demanded multiplicity in both image and genre, in a time when black women pop singers of her oeuvre weren't often given it. Then, as now, she knew she would not be afforded that multidimensionality on good faith—she had to make it for herself.
Rhythm Nation opens with an industrial-sounding "Interlude: Pledge," in which she, as our righteous leader, lays out her mission for social justice in a new utopia, "a nation with no geographic boundaries, bound together through our beliefs." Behind her, disciples say words in a manner of poetry, a chorus; just after she finishes saying that she and her crew are "pushing toward a world rid of colorlines," a man's voice whispers the word "dance," and that juxtaposition epitomized her approach.
Jackson's a multimedia artist to be sure—her music was not complete without the dance was not complete without the visuals—but her particular mix of politics with dancefloor acumen and box-step swing was miraculous. The bridge for "The Knowledge," in which Jackson and her constituents call and respond the words "Prejudice/No!/Ignorance/ No!/Bigotry/No!/Illiteracy/No!," is the stuff of a political rally, theoretically incongruous in a pop song. And yet overlaid on a creeping New Jack Swing bassline, its stridency transformed into physicality, the cadences inspiring the idea that, shit, maybe dancing really does have the power to liberate us. In the video, she smashed glass, did a half-snake, and posed with her index finger pointing at her brain on the downbeat.
Shortening the distance between funk, industrial experiments—you can link Pretty Hate Machine's synth clangor from that same year to Rhythm Nation's easily enough—and New Jack Swing, Jackson was making a statement about the multitudes of her pop artistry, as well as her broader multitudes as a black woman. Where Control was about liberating herself from the expectations of her family and specifically her father, Rhythm Nation was in direct response to her label's exhortations that she make a "Control II," as Jimmy Jam described it, which clearly was too small a box to hold her artistic impulses. She was in full flourish, and also staking out further claim as a sex symbol, as lead single "Miss You Much," slinky-sad "Come Back to Me," and the image-altering "Love Will Never Do (Without You)" solidified. The former was the pop love song of the year and a smash hit with a chair-dancing video that's still being imitated. (Ciara and Tinashe, at the least, would be forever altered.)
"Love Will Never Do" was inextricable from Jackson's bustier gallivanting with half-clad muscle men, actor/models Djimon Hounsou and Antonio Sabáto Jr, on the beach. "I was so used to being a tomboy, covered from head to toe," she said in I Want My MTV: The Uncensored Story of the Music Video Revolution. "I wanted to do something different for the last video from Rhythm Nation… with the top half, I never wore something so tiny in my life. And I didn't have on a bra." The video, shot in high-contrast and glimmering black and white, was specifically calibrated to fashion spread specifications—courtesy of director Herb Ritts, a frequent photographer of supermodels—and moreover to match Jackson, then 23, with her emergence as a femme fatale.
This would thrust her career into an adult sensuality—by 1993, at 27, she would be posing topless on the cover of Rolling Stone. But Rhythm Nation's arc was also explicitly historical. After much speculation about what the "1814" in the title stood for, Jackson later confirmed that it referred to the year Francis Scott Key wrote the "Star-Spangled Banner," firmly asserting this was her new national anthem. In the "Alright" video, a song that worked alongside "Escapade" as an explicit reprieve from the social ills she addressed on the album—the permission to get loose after all that stress, a pop structure that still proves useful today—Jackson wore a zoot suit and cast '40s and '50s icons Cyd Charisse and Cab Calloway, the former a dance legend of the silver screen, the latter a music director who spent much of his early career as the gifted entertainment for wealthy whites in Harlem's segregated Cotton Club. "Alright" was a pop art homage to those old timey musicals, and an implicit vision of what the world could be like, should her utopia be instated. The melody was forward-looking and comforting, a love song and with more swing and the synth horns that signified a kind of aspiration among an orchestra of agreeance. She sang:
Friends come and friends may go
My friends you're real I know
True self you have shown
You're alright with me
https://www.youtube.com/watch?v=0KCvVsNstjE
That some dismissive critics then thought the politics were separable from the love songs was an incorrect reading. Jackson's further assertion of self was as personal-as-political as the era demanded, reflecting in part her relationship and eventual marriage to René Elizondo, done in secret to keep both the press and her former dadager at bay. She was fully growing into herself as a human, exploring her internal territory and reconciling it with the world outside, while pushing herself musically more than ever. "Black Cat," which she wrote entirely herself, was the fully manifested example of this internal and external congealing. She threw down a slinky, sexy snarl over a rock guitar shred that was also wildly jiggy, making an unlikely dive-bar banger that spoke to both gang members and the wronged women who loved them. Another nod to history—topically, the bad boy lament could be traced back to Big Mama Thornton, the black blueswoman who invented rock'n'roll—Jackson was proving to the world she was as versatile as any other chart-topper of the day, and no move she made was without substance. Perhaps by presenting her self-made utopia, she also envisioned that the real-life dystopian one would recognize her not for what it wanted her to be, but for who she was.
You can check out the latest casting calls and Entertainment News by clicking: Click Here
Click the logo below to go to the Home Page of the Website
Click the logo below to follow ETInside on Twitter
Click the logo below to follow ETInside on Facebook

Click the logo below to follow ETInside on Instagram

Click the logo below to follow ETInside on Pinterest

Click the logo below to follow ETInside on Medium