If you've been keeping up with Keeping Up with the Kardashians, then you've probably noticed a common theme when it comes to Khloe Kardashian's recent storyline: Pregnancy. Or more specifically, the possibility of a future pregnancy. Because although the Good American designer isn't currently expecting her second child, she has expressed a desire — and has even taken steps to ensure it's physically possible — to one day have another baby.
On the April 16 episode of Keeping Up with the Kardashians, Khloe and Tristan said they want to give their 2-year-old daughter, True, a sibling. So the question on everyone's mind is: Is Khloe already pregnant again? Let's take a closer look.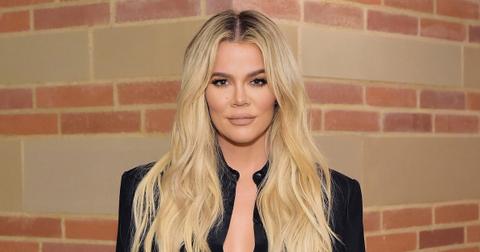 Khloe and Tristan had a discussion about True and the word "sibling" popped up.
Khloe and Tristan were discussing via FaceTime which toys True have outgrown, and during their conversation, the NBA star commented, "What happens if we have another girl? Then you have to buy it all over again?"
"Who is having another girl with you?" the reality star responded. Then, Tristan made a remark that their daughter "does need another sibling."
Khloe then added, "Right, so I might get some embryos and get a sibling. I might need to borrow some sperm or get some from you, but we'll figure that out later."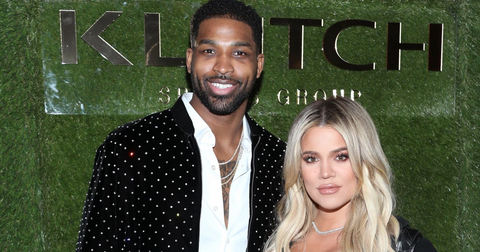 Khloe recently decided to freeze her eggs.
In their conversation, it's implied that Khloe would use in vitro fertilization to have another baby — and given that Khloe already decided to freeze her eggs, she and Tristan wouldn't would even have to get romantic in order for her to get pregnant again.
Kris Jenner definitely put the pressure on her daughter to at least consider freezing her eggs on a recent episode of KUWTW. (Considering Koko is 35 and not currently dating anyone, but wants to give True a sibling one day, it makes sense.) After chatting with her BFF Malika Haqq, Khloe decidedly to go for it. "I decided that I am going to freeze my eggs, just to get you off my back," Khloe told Kris.
Khloe and Tristan started dating in September 2016, but broke up after multiple cheating scandals.
Khloe and Tristan started dating in September 2016. However, they broke up in February 2019 after the NBA star was accused of cheating with Kylie Jenner's former BFF, Jordyn Woods. (In case you didn't know, Tristan had a son with ex-girlfriend, Jordan Craig, when he began dating Khloe.)
These days, Khloe and Tristan are co-parenting their 2-year-old daughter, True. But fans have noticed that they are spending a lot of time together — especially at True's second birthday party.
Recently, Tristan and Khloe came together to give True a 'Trolls'-themed birthday party.
Khloe and Tristan came together to throw True a Trolls and Sesame Street-themed party at Khloe's home on April 12. A KUWTK source told People at the time that True had an absolute blast despite the trio social distancing from extended family due to the coronavirus pandemic. They used Zoom to have the rest of the Kardashian family virtually joining in on the fun.
Given that Khloe has frozen her eggs, has been spending more time with Tristan — and has gone so far as to think out loud with him about giving True a sibling — it's no wonder KUWTK fans are wondering if Khloe is already pregnant again. Still, neither Khloe nor Tristan have made a pregnancy announcement, so it doesn't appear they're quite ready to put their plan into action.
You can check out the latest casting calls and Entertainment News by clicking: Click Here
Click the logo below to go to the Home Page of the Website
Click the logo below to follow ETInside on Twitter
Click the logo below to follow ETInside on Facebook

Click the logo below to follow ETInside on Instagram

Click the logo below to follow ETInside on Pinterest

Click the logo below to follow ETInside on Medium