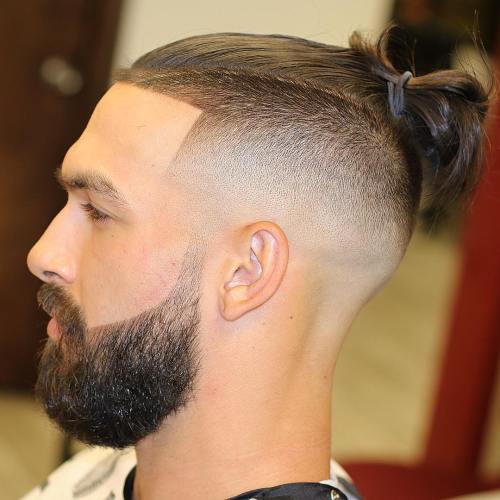 Highly popular among Asian, African-American and Caucasian men, high fade cuts transcend ethnicity and age. They're inherently cool – high fades were spotted on Old Hollywood stars back in the day, and now they are rocked by young, hip men.
High Fade: Where Classic Meets Cool
Fade haircuts has evolved from classic tapers. But nowadays, the trend has become more diverse than ever, with men rocking longer (even curly) hair on the top of the head with contrasting shaved sides. In other words, the style can be worn in a multitude of different ways.
#1: Combed Back Close Crop
With a subtle (but sexy) pompadour above the forehead, this shadow fade is a true classic of the high fade. Brush back the hair with a wide-toothed comb, incorporating a modest amount of holding gel or spray for extra hold.
#2: Blurry Bald Fade
This high skin fade is the epitome of coolness, as the hair seems to move seamlessly from thick to thin with a line up perfecting the edges. Slick back your hair into a puffed-up pompadour with texturizing pomade and spritz with hairspray if your hair doesn't hold a pouf well.
#3: Fade with Faded Beard
The key to creating a stylish, sexy men's cut? Absolutely precise lines–you know, with a line up that looks as though the sides of the hair were shaped with a ruler. Make sure the hair on the top of your head isn't cut any longer than one inch to get the closest crop you can.
#4: Forward-Combed Style
Of course, not all faded looks need to be combed backwards (their most popular form). Rather, some of the trendiest men's cuts are now being combed forward on the forehead, almost in a Caesar-like style.
#5: Wild High Cut
Assume all high top fades have the same appearance? Think again. Styles like this one push the limits of traditional styles, relying on a sky-high pompadour and precise line up to add drama. Use a strong hold gel for extra security.
#6: Shadowed Men's Haircut
One of the most popular hairstyles for men right now, the shadow fade is all about seamless blending, rather than a harsh, drastic shift in texture. This can be achieved by a talented barber with a sharp razor (and controlled hand).
#7: Long Hair High Cut
Once reserved solely for hipsters, faded haircuts with long hair on the top are now becoming more mainstream. It's an incredibly flattering style, helping to elongate the face and emphasize a set of chiseled, masculine features.
#8: Messy Mohawk Cut
Although it's most common to see longer hair of a high fade haircut slicked back into a pompadour, that trend is branching out quickly into mohawk-esque edgy styles. The key is to use plenty of texturizing pomade to keep everything messy yet under control.
#9: Clean Cut Fade
Ideal for a job interview, Easter Sunday with grandma or even meeting her parents for the first time, this shaved faded cut projects confidence, class and professionalism. The cleaner and the tighter the overall appearance, the better.
#10: Side Part Shaved Style
Just because you're wearing your hair in a faded style, doesn't mean you can't rock a side part too. In fact, hair parted toward the side can create a unique variation to the traditional "pomp" style you see often.
#11: Undercut with Braids and Bun
Guys, hear us out: braids aren't just for ladies–you can rock them, too. As pictured here, braided hair can be worn with a high top fade for a fresh, punk rock style. The best part? You won't have to worry about styling the longer section every day.
#12: Flipped Up Buzz
With faded hairstyles, there are too many looks to choose from. One of the most-seen is a forward-combed, short cut crop, with ends above the forehead flipped up. This adds a certain amount of edge to an otherwise clean and simple cut.
#13: Pompadour with Shaved Design
Don't be afraid to shake things up (quite literally) – try a fade with long hair on top and a shaved design on the sides. A shaven style is the perfect canvas for creating cool, intricate art.
#14: Spiked Faded Fauxhawk
A high taper fade mixed with a sky-high faux hawk is the definition of sexy hair, mainly due to its variety. Whereas the top of the hair is wild, the sides are shaved and more serious. This is a perfect cut for a hip young man.
#15: Fade with Curls
You've certainly seen this cut on NBA players. Fades with an afro top are an incredibly hot style right now, mixing together both natural black curls with clean sides and edges.
#16: Straight High Top
When it comes to dramatic fades, the closer the top to the sky, the better. And while this particular style seems almost impossible to re-create, don't fear the big heights. Just be sure to master hair-drying with a round brush and stock up on gels and hairsprays beforehand.
#17: Dreadlocks Bun Style
One of the greatest aspects of high and tight fades is that the options for what to wear on top of your head are virtually limitless. If you want something bold and showy, go with dreads. Secure your braids near the crown of your head with an elastic, shaping a cool man bun.
#18: Fauxhawk with Side Part
Some of the best starter-styles for this type of look are those with a minimal amount of balding, no designs and plenty of hair on the top of the head that you can brush forward, sleek backward or spike up into a fauxhawk.
#19: Side Part and Faded Undercut
This fade with part is both clean-cut and perfectly sculpted, making it incredibly sexy. Although it can be difficult to style, when the hair is particularly long and thick on top, you can experiment with a comb over that looks incredibly stylish and neat when paired with a line up.
#20: Extra Short Faded Cut
Short, sweet and directly to the point, this high fade haircut with chiseled beard is a very popular style for men who seek low-maintenance. The crew cut has always been in high demand, but now is the right time to give it a bald fade update.
From extra-short to super-long and braided styles, there's no reason why a high fade shouldn't be your next go-to style. Of course, the main caveat with this style is the upkeep–be sure to visit your barber regularly to keep the look trimmed, tight and handsome.
Click the logo below to go to the Home Page of the Website
Click the logo below to follow ETInside on Twitter
Click the logo below to follow ETInside on Facebook

Click the logo below to follow ETInside on Instagram

Click the logo below to follow ETInside on Pinterest

Click the logo below to follow ETInside on Medium