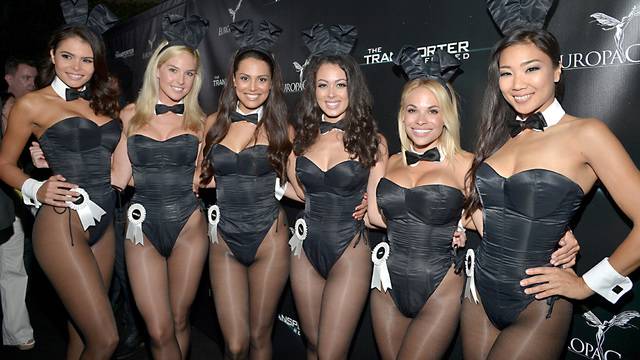 Let's talk numbers. The adult entertainment biz is reportedly worth $15 billion annually. In an industry where the equivalent to a mainstream actor's "scale" (minimum pay) for appearance in a "standard" sex scene can sometimes be counted in the hundreds of dollars, most adult entertainment actors and actresses don't make a lot of money. Like mainstream entertainment, the true adult entertainment stars are few and far between.
How do they make money? Well, there is, of course, the fees for acting. Or at least appearing in films. If you are Tera Patrick or Lexington Steele and in your prime, you can expect to take home in the hundreds of thousands of dollars a year. Nice beginning. Then stars set up their own adult-only, x-rated websites that the curious pay to access. Before she sold it to Playboy, Jenna Jameson's Club Jenna was said to make millions a dollars per year. Then there are the "endorsements". Endorsements? Sasha Grey and Jenna have lent their names (and purportedly their anatomies) to sex toys. Some establish sexy clothing lines and do quasi-mainstream media like Playboy TV. Round this off with maybe a few mainstream or schlock horror films, and established stars can rake in millions a year. Here are 15 of the richest adult entertainment stars.
BELLADONNA – $1.8 MILLION
If there is a grunge element to adult entertainment movies, Belladonna (born Michelle Anne Sinclair) was part of it. In an outrageous industry, she did scenes and performed acts no one else wanted to take on. Don't ask, cause we can't tell. The Mississippi native has more or less left performing behind, for the production side of the business. But she did appear in over 300 adult films and has nearly 90 directorial credits to her name. Her money has come via her production company, Belladona Entertainment (the people who brought you Hell's Belles), as well as revenues from her website, and sex toy deals with the likes of sex toy leader, Doc Johnson.
SASHA GREY – $2.5 MILLION
Since going mainstream with her performance in Steven Soderbergh's The Girlfriend Experience, Sasha Grey has left the adult film business behind. Don't ask her to take off her clothes in mainstream films because she certainly won't. With over 300 adult films to her credit, she started her career when she was just 18 (and legal). In 2008, she was the youngest actress ever to win the Adult Video News Award for Best Female Performer and in 2011, she was named by CNBC as one of the most popular adult entertainment stars. And this from a career that spanned all of 5 years or so.
GIANNA MICHAELS – $4 MILLION
What can we say about Gianna (aka Mistress Gianna)? For starters, she's reportedly a "natural" 38F and stands a statuesque 5 foot 11 inches. She went from nude modeling to making adult entertainment movies, nearly 500 of them. And her money? Well, she has had a strong presence on a number of adult websites, sold her bits for sex toys, and has even a high traffic website. You can check out her "compilation", The Best of Gianna Michaels for her best . . .
EVAN SEINFELD – $5 MILLION
Mainstream has Brangelina. Adult entertainment films have TeraSen (we made that up). Formerly married to adult super-star Tera Patrick, Evan Seinfeld is a musician (and a founding member of Biohazard), actor (adult and mainstream), and a big fan of tattoos. In adult films, he appeared as "Spyder Jones". His website says it all. Some of his mainstream appearances include a 40 episode stint on HBO's Oz, but it doesn't stop there for Evan. He and Tera even did their thing in E! True Hollywood Storyepisode "Rockstar Wives".
JENNA HAZE – $6 MILLION
With nearly 600 (count 'em, 600) adult films as an "actress" and some 15 as a director, Jenna Haze was the Adult Video News Award for Best New Starlet in 2003 and has her very own production company, Jennaration X Studios. One report says that for a time, she only "performed" with women out of loyalty (or some such) to a boyfriend, who was an adult film cameraman. Maybe she moved on, because she went back to working with men in 2006, when she made Jenna Haze Darkside. And she made history of sorts when one of her films was the first adult film released on Blu-ray.
LEXINGTON STEELE – $6 MILLION
KATIE MORGAN – $6 MILLION
One report says that Katie got into adult entertainment to pay off her bail after an arrest in 2000 for transporting more than 100 pounds of marijuana from Mexico into the USA. Kind of a ditsy bad girl type, she was in the spoofy Seth Rogen film, Zack and Miri Make a Porno. She has said she watched adult films to pass the time while awaiting her trial on the marijuana rap and decided to give it a go. Hundreds of films later, she retired, but stays "active" touring with her own burlesque (aka. strip) show.
BREE OLSON – $7 MILLION
A veteran of nearly 300 adult films, Bree Olson describes herself as an atheist and bisexual. Olson lived with and was one of Charlie Sheen's "goddesses". Sheen has claimed she retired from the adult entertainment industry, due to their so-called relationship. He was a good influence? That was in 2011. Since then, she has gushed on her website about her acting career, mostly in B-feature comedy/horror forgettables. Oh, the Bree Olson sex toys are still selling, even if she has retired. As sex toy website Adam & Eve put it, she is "the girl next door with the sex drive of a pro."
TRACI LORDS – $7 MILLION
Traci Lords made 100 or more adult films, all but one of them when she was under the legal age of 18. Let's be blunt here. She lied about her age, produced fake i.d., and cost the adult industry millions when the Feds forced them to pull all of her films. She's not on any most popular AV list we can find. Since making one legal adult film when she was 18, she has since gone on to do B-feature movies. Her website describes her as an "Actor and Musician". Okay, if you say so.
RON JEREMY – $7.5 MILLION
MARIA TAKAGI – $8 MILLION
The petite Japanese actress has jumped to mainstream film and TV in her native country Japan, after a stellar run as an adult actress. In 2003, she reportedly was the highest paid adult entertainment actress in Japan. She finally retired from the industry in 2004, and has gone on to become an established women and has a busy and respectable career in Japanese movies and television. Much of her wealth is due to her mainstream efforts, but she still remains one of the greats of Japanese adult films.
JESSE JANE – $9 MILLION
Former dancer, cheerleader and veteran of over 100 adult films, Jesse Jane is a petite bombshell that took the adult video world by storm (and we're talking about a big storm). We can certainly see why. Reportedly, she simply cold called film production company Digital Playground, presented her assets, and was signed on the spot. Then there were the sex toys, appearances on Playboy TV and gigs hosting award ceremonies. But what we are still trying to figure out is the story that she had her breast enhancement surgery redone for high-definition movies.
JENNA JAMESON – $10 MILLION
The star of I Dream of Jenna, Jenna Jameson had a successful website, Club Jenna, that was sold to Playboy in 2006, and wrote a bestselling autobiography. She dramatically quit the business in 2008, vowing never to return. Her estimated net worth is $10 million. Unfortunately, it apparently went all wrong. She had a tumultuous relationship (and twin boys) with Ultimate Fight Champ, Tito Ortiz. Reportedly, her LA mansion was auctioned off just in advance of foreclosure in 2013, causing Jenna to go back to adult films and ink a deal with boy sex toy makers Fleshlight, to lend her name and body parts to their toy. With that being said, her net worth may not be as high as $10 million anymore.
PETER NORTH – $11 MILLION
TERA PATRICK – $15 MILLION

Click the logo below to go to the Home Page of the Website
Click the logo below to follow ETInside on Twitter
Click the logo below to follow ETInside on Facebook

Click the logo below to follow ETInside on Instagram

Click the logo below to follow ETInside on Pinterest

Click the logo below to follow ETInside on Medium