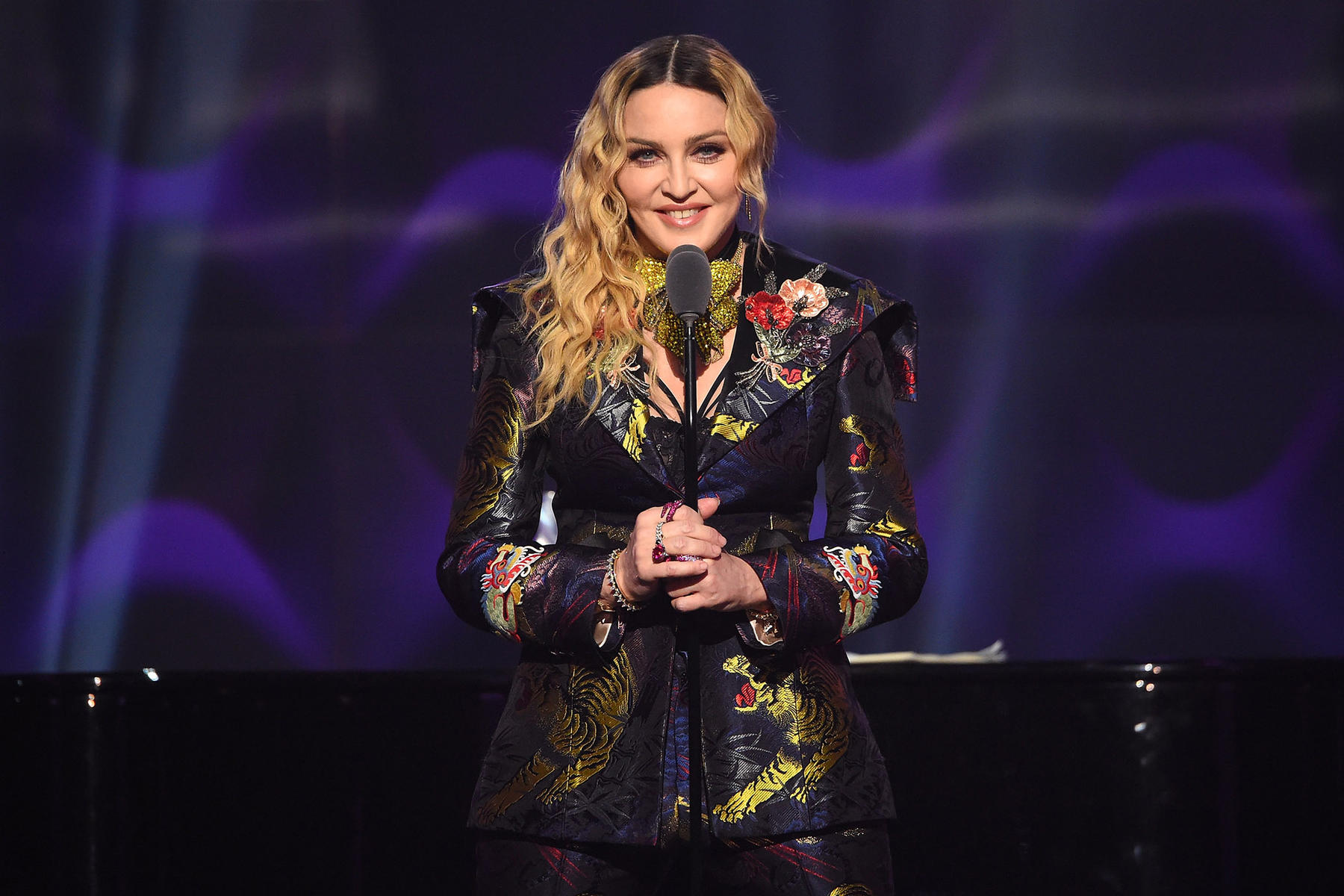 If Michael Jackson is the King of Pop then Madonna hands down has to be crowned The Queen!
Though she's probably best known to a new generation as a social media stunt queen and for refusing to dress like a little old lady, her outsized influence on pop culture can't be denied. Before Kim Kardashian would break the Internet with nudes, Madonnarisked career and even freedom to bare all in her book Sex; before Katy Perry would be known for elaborate costumes, Madonna set the bar for how to switch up an image; before Britney Spearswould turn a snake into a sexual object, Madonna upended the sanctity of a wedding dress; and before Beyoncé would teach every pop star how to control their narrative, Madonna wrote the book on using controversy to sell records. Madonna is an ICON. In honor of her big day, here are 12 times she slayed our screens.
1984: Madonna makes the eyebrows of people watching the very first first MTV VMA Awards go up, up, up into outer space as she shocks them all by rolling around suggestively in a wedding dress.
1985: Every tween girl in America (and some boys!) bum rushed malls in search of plastic bangles and lace gloves to mimic Madonna's look in her video for "Into the Groove," one of the many hits from her movie Desperately Seeking Susan.
1989
: 
Madonna
 causes Catholics to douse their TVs in holy water after seeing her video for "Like a Prayer," which showed her kissing a saint and dancing in front of burning crucifixes. The Vatican denounced it.
1990: "Justify My Love," Madonna's black-and-white video full of S&M, androgyny, bisexuality and boobs, is banned by MTV but Madonna gets the last laugh when she releases it on VHS — the first time anyone ever did that — and it becomes a best-selling video single.
1991: Truth or Dare, Madonna's documentary about her 1990 Blond Ambition Tour, becomes a low-key celebration of gay culture and life as it shows — among other things — her dancers being out and proud before Pride was a thing.
1994: Madonna shows her entire ass on The Late Show with David Letterman, drops the F-bomb 14 times and trolls Letterman in spectacular fashion, like when she told him to smell her underwear. It's one of the most memorable late-night moments ever.
1996: In one of the first-known examples of Madonna employing the pseudo-Euro accent she'd really lay on thick in later years, she accepts the Golden Globe for her turn in Evita, which proved she actually could act.
2001: BMW's short film Star is unprecedented for being one of the first pieces of branded content to debut online, and for showing Madonna playing with her image: she plays a bossy diva (total stretch, right) but gets what's coming to her when her driver, played by Clive Owen, deliberately tosses her around a M5.
2003: Madonna kisses Britney Spears on the mouth at the VMAs. This is mad problematic now because it presents bisexuality as shocking and edgy but, hey, it was a different time. She also kissed and kind of dry humped Christina Aguilera, but nobody cared as much.
2012: Madonna's epic Super Bowl performance still goes down as one of the biggest and best — and she did it at age 55.
2014: Madonna cements her legacy as a gay icon when she performs while 33 couples, including some same-sex couples, got married in a mass ceremony at the Grammys before same-sex marriage became law of the land.
All Hail the queen of pop.
You can check out the latest casting calls and Entertainment News by clicking: Click Here
Click the logo below to go to the Home Page of the Website
Click the logo below to follow ETInside on Twitter
Click the logo below to follow ETInside on Facebook

Click the logo below to follow ETInside on Instagram

Click the logo below to follow ETInside on Pinterest

Click the logo below to follow ETInside on Medium