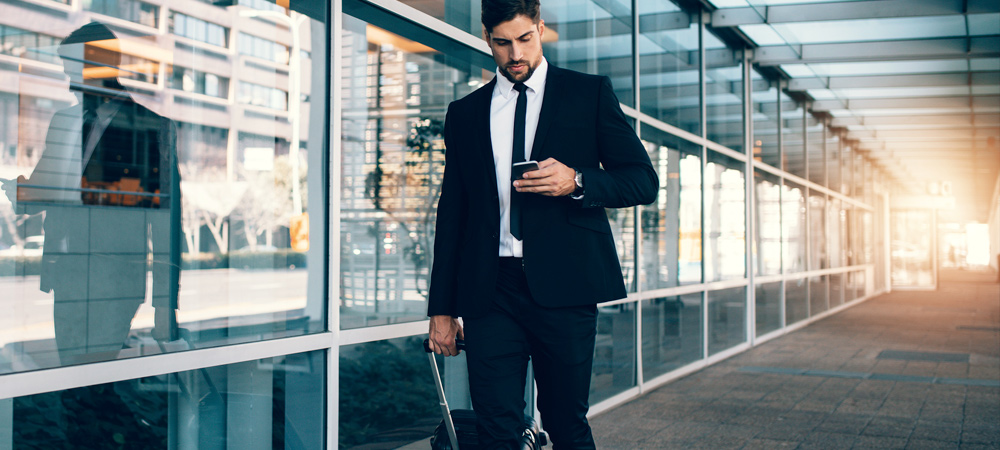 Taking a trip abroad used to be easy: all you needed was your plane ticket, passport, phrasebook, some low-cost high-ABV duty-free booze and a suitcase full of alarming loud holiday clothes.
Of course, it was a bit of a nightmare, too: you'd lose your plane ticket, pick up the wrong passport, forget to pack your best swim shorts and end up arguing with a taxi driver because your phrase book is, well, foreign.
In this modern, tech-savvy day, there's a gizmo to solve all of those problems and more. In fact, traveling has never been simpler, providing you can carry out the simple task of tapping a screen.
So whether you're booking, flying, taking a tour of a new city, or looking for somewhere that serves up authentic cuisine, here are 35 must-have apps for travelling abroad.
Before You Go
Skiplagged
A controversial (but no less handy app), Skiplagged helps travellers hack airline pricing to find hidden-city flights. Instead of booking direct flights from A to B, it finds cheaper layover from A to B to C options. You just leave the airport to skip the final leg of the flight.
Available free on iPhone and Android.
PackPoint
Saving you the trouble of remembering (and inevitably forgetting) everything you need, PackPoint is the ultimate luggage hack. Tap in all the specifics of your trip – destination, length of stay, activities – and it puts together a comprehensive list of essentials, from socks and sunglasses to phone chargers and hair products.
Available free on iPhone and Android.
XE Currency
Wherever you go, money can get confusing – and it's all too easy to overspend or not take enough foreign moolah. The XE Currency app helps your sort finances by offering live exchange rates, historical charts, and a converter for calculating prices in 180 currencies. It also remembers the latest exchange rate so you can use it offline.
Available free on iPhone and Android.
Skyscanner
An indispensable tool for the experienced (and thrifty) traveller, Skyscanner allows you to search, compare, and book cheapest deals on flights, hotels, and car hire – whether you're booking last minute or months ahead. More than 40m downloads pretty much prove its place among the best travel apps out there.
Available free on iPhone and Android.
Google Trips
A recent addition to Google's ridiculously helpful and accurate selection of travel-friendly apps, Trips is a one-stop shop for organising your adventure. It collates all travel and reservation info from your emails and helps you plan a daily itinerary, with sightseeing and food recommendations.
Available free on iPhone and Android.
While Flying
FlightAware
One the most popular and user-friendly flight trackers available. Monitor any commercial flight in the world (you can even see what the pilot sees in glorious 3D), plus check speed, aircraft type, route, arrival and terminal details. For both keen travellers and hardcore aviation geeks.
Available free on iPhone and Android.
GateGuru
Okay, this one is most useful before you get in the air, but an essential tool for taking the stress out of the airport stage. It tells you where to check in, estimated wait times, and gives a map of the terminal. All of which helps you factor in time for the obligatory airport pint.
Available free on iPhone and Android.
Turbulence Forecast
One for anxious flyers, Turbulence Forecast uses official flight crew info to update you with maps of bad weather, indicating where areas of turbulence will be. You can also access it mid-flight to figure out how much longer turbulence will last, or when the next nerve-rattling bout of buffeting is coming.
Available free on iPhone.
App in the Air
Pitching itself as a 'personal flying assistant', App in the Air tells you everything you need to know about your upcoming flight including real-time updates, airport tips, and flight profile. But once you're flying, it also tracks mileage covered, route, and keeps a log of your personal flight history. It does everything except bring you an alcoholic drink.
Available free on iPhone and Android.
Pocket
If there's anything more likely to turn your brain to mush on an already–boring long haul flight, it's a marathon of films you couldn't be bothered to see at the cinema. So get reading instead. Pocket saves all those articles and long-reads you didn't have time for in day-to-day life so you can enjoy them offline while free from distraction in the air.
Available free on iPhone and Android.
Where To Stay
Airbnb
A game-changer in the travel world, wherever you are, use Airbnb to search the location, and book accommodation in someone's actual home (don't worry, they won't necessarily be there). It's not always cheap, but it pays for itself when travelling in groups, plus it offers some of the unique places to catch 40 winks, from tree houses in Bali to a giant seashell in Mexico.
Available free on iPhone and Android.
HotelTonight
Not every trip goes the plan. So if you're suddenly lumbered with a cancelled flight or Airbnb disaster, Hotel Tonight offers discounted prices on empty rooms. Booking them takes a matter of seconds. You can also book ahead, with a range of hotels available – from luxury to budget.
Available free on iPhone and Android.
Roomer
Looking for cheap accommodation? Roomer will connect you will someone who has a cancellation and pre-paid hotel room going spare. You can take on the room for a fraction of the cost – up to 80 per cent in some cases. On the flip side, a handy app to have in case you need to sell some hotel accommodation on.
Available free on iPhone and Android.
Hostelworld
One for backpackers, inter-railers and free-spirited adventurers – Hostelworld can be used to search and compare more than 36,0000 hostels and B&Bs in over 170 countries. It's the perfect app if you're happy going with the flow and making arrangements on the fly.
Available free on iPhone and Android.
Geosure
We don't want to be a total downer, but safety should be top of the list when planning a trip and deciding where to stay. Geosure uses statistical algorithms to give a real-time safety score – based on various factors, including physical harm, theft, health, political and basic freedoms – in 28,000 neighbourhoods around the world.
Available free on iPhone and Android.
Getting Around
Uber
Where would be without Uber? Stuck on the pavement, trying to flag down a local taxi for twice the price, that's where. Uber has revolutionized boozy weekend shenanigans back home, but it's just as handy when traveling abroad – whenever or wherever you need a taxi, with none of the language barrier.
Available free on iPhone and Android.
Google Translate
A multilingual marvel of modern technology, with Google Translate you hold your phone over any foreign text — be it a steak menu or a street sign — and it uses augmented reality tech to translate live on the screen (in the same font, no less). An invaluable, strangely futuristic tool for finding your way around and learning the most about a new city.
Available free on iPhone and Android.
Turo
Essentially Airbnb for cars, Turo is a peer-to-peer car rental service, which helps you hire vehicles of any make and model from local hosts (i.e. someone willing to rent out their car for a few days). It's far cheaper than using established rental companies and more straightforward than the usual faff you get at the point of collection.
Available free on iPhone and Android.
Citymapper
It can be hard finding your way around a major city (even your own city, let alone somewhere you've never been before). Luckily the award-winning City Mapper app is an A to B route planner that covers all transport options – bus, subway, train, even Uber – with live disruption updates, plus real-time departure and arrival info.
Available free on iPhone and Android.
Rideways
After some peace of mind about your airport travel arrangements, without having to worry about finding a taxi, or being stung with a ridiculous surcharge? With Rideways you can book airports taxis with reputable firms, with a fixed price (all transactions are cashless), and a guaranteed easy-to-find driver.
Available free on iPhone.
Seeing The Sights
Sidekix
Dubbed an 'urban navigation app', Sidekix maintains that the best way to explore a city is by putting those sneakers to pavement. Just tap in your destination and it will give you a route, via other sights, shopping, hidden gem attractions, or best food and drink venues – all based on your own passions and personal tastes.
Available free on iPhone and Android.
Guides by Lonely Planet
When it comes to travelling expertise, there's nobody better than the Lonely Planet writers. The publisher's app offers curated guides, with reviews and recommendations on all the must-see (and lesser-known) sights for an authentic experience. It also goes the extra mile with offline maps, language phrasebooks, and local tips.
Available free on iPhone and Android.
G Spotting
Forget the slightly rude name, G Spotting is an app for the 'authentic' (i.e. fancy) traveller. It's actually a spin-off from Gwyneth Paltrow's lifestyle website, Goop, and gives the inside scoop on restaurants, shops, hotels, and culture hotspots. Think high-end and boutique-y. The sort of place you'd expect to see a Hollywood A-lister between Moon Juice smoothie sessions.
Available free on iPhone.
Musement
Launched in 2014, Musement promises to turn your phone into a digital tour guide in over 350 worldwide destinations. It suggests all the usual things – restaurants, bars, landmarks, attractions – but also works as a 'what's on' guide for concerts, sports events, or exhibitions. The big sell is that you can skip queues by booking tickets directly through the app.
Available free on iPhone and Android.
Time Out: Discover Your City
If you're in any of the world's major cities, Time Out is still the number one guide for discovering things to do that otherwise only locals would know about. It's a handy tool for planning your entire trip, day-by-day, with recommendations that help you max out on culture (or just good places to drink) during your time away.
Available free on iPhone and Android.
Food & Drink
Where Chefs Eat
This app version of the famous restaurant guidebook lists over 4,500 eateries in more than 70 countries, recommended by 650 top chefs. In short, actual chefs tell you the best places to eat. And it's not all top dollar fine dining – there are suggestions for neighbourhood haunts, budget options, breakfast, late night bites, and more.
Available free on iPhone and Android.
Yelp
Picking a restaurant to eat in or a bar where you can sink a few martinis in a new city is always a risky business. What you need is the local low-down on where's best to eat, drink, and be merry. So what better app than Yelp, the number one app for local business reviews? You can also check out reviews of shops and other services.
Available free on iPhone and Android.
Happy Cow
Designed for vegans and vegetarians (the cow's happy because he hasn't been eaten, presumably), this finds plant-based-grub restaurants and cafes anywhere in the world. And not just standard eateries, but veggie bakeries, health food stores, markets, juice bars, and everything else. It also caters for organic, gluten-free, and raw food fans too.
Available on iPhone, priced £3.99 and Android, priced £3.59.
Zomato
Need to find a mouth-watering hangout, be it food or drink? Providing you're in one of 10,000 cities worldwide (we're going to assume you are), Zomato has you covered. You can look through menus and photos of dishes, plus scroll through themed lists of venues if you're hungry for a specific type of cuisine, or looking for a place that will suit a particular occasion.
Available free on iPhone and Android.
OpenTable
OpenTable doesn't just find restaurants to eat in, it also books the table directly from your device (eliminating the need for angrily shouting your details down the phone to a maitre d' who doesn't understand your terrible lingo). It lists over 40,000 venues around the world, which you can search by location, cuisine, or personalised preferences.
Available free on iPhone and Android.
Next-Level Living
GetMyBoat
It's a common problem: you need a luxury yacht with an hour's notice but just can't seem to flag one down. Fear not, GetMyBoat is the app you need. It's the number one place for booking all kinds of swanky water activities: charters, tours, fishing trips, paddle board rentals, snorkelling, and even surfing lessons.
Available free on iPhone and Android.
Dufl
Intended for frequent business travellers, Dufl stores, packs, ships and cleans your clothes so you can hop between borders bag-free. All you need to do is the select the pieces you want sending from the app's digital closet, and your freshly cleaned Oxford shirts will meet you at your destination.
Available free on iPhone and Android.
LoungeBuddy
These days, you don't have to be a first-class flyer to access airport lounges (though having a few quid does help). With LoungeBuddy you can browse ones available at your terminal – including actual photos of the usually mysterious interiors – check the amenities and book a spot in seconds.
Available free on iPhone and Android.
Louis Vuitton City Guide
That's right, a 'things to do' guide from one of the world's top luxury fashion houses. As you'd expect, recommendations lean towards the luxurious – high-end hotels, boutique stores, wallet-troubling chocolatiers, galleries, and off-the-beaten-track venues.
Available free on iPhone and Android.
Alice Guest
Alice is an award-winning concierge service that connects world explorers with every department of the hotel (providing you're staying at one of the 2,000+ locations signed up to the platform). You can order room service, talk to the front desk, book spa appointments and arrange wake-up calls, all with real-time updates.
Available free on iPhone and Android.
You can check out the latest casting calls and Entertainment News by clicking: Click Here
Click the logo below to go to the Home Page of the Website
Click the logo below to follow ETInside on Twitter
Click the logo below to follow ETInside on Facebook

Click the logo below to follow ETInside on Instagram

Click the logo below to follow ETInside on Pinterest

Click the logo below to follow ETInside on Medium