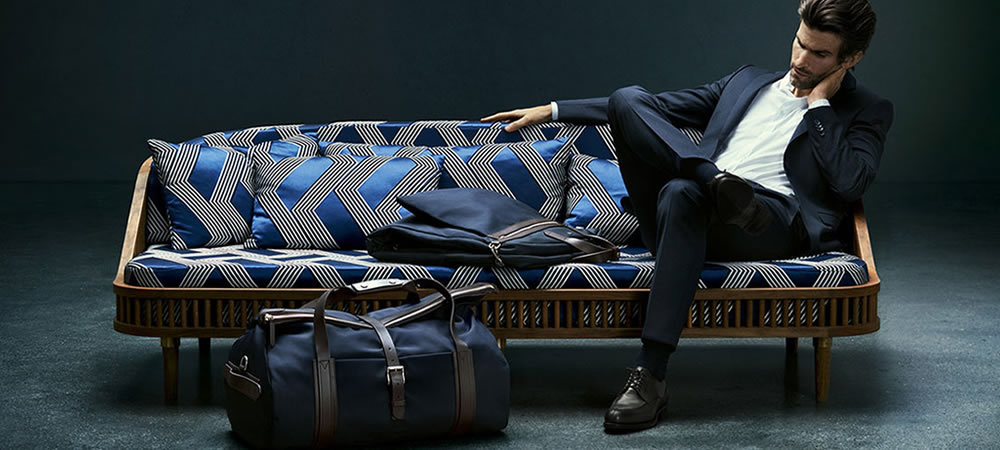 Buying bags based on seasonal trends was once an exclusively female pastime. But then again, so was giving a damn about what you wear at all.
Designers from the high street to the high-end are continually developing their understanding of what men want from a carrier, and repackaging this knowledge into updated designs every six months.
If you're toting around a battered old bag that's seen better days, it's time to overhaul your receptacles with one of 2017's key bag trends.
Tactile Backpacks
In recent years, the luxury backpack has cemented itself as a stylish yet utilitarian method for carting everyday kit to the gym, airport and even work.
Sleek versions such as those cut from supple black leather continue to offer the perfect balance between practical and sophisticated, but for 2017 the style is taking on a more rugged, tactile vibe in earthy colours and materials such as suede and canvas.
"Everyone is wearing a rucksack these days, so go for one that will get better with age," says Alison Lloyd, founder of British accessories brand Ally Capellino.
For a more fashion-forward purchase, Sophie Milner, a men's accessories buyer at Urban Outfitters, suggests taking cues from the runways. "The backpack is… a great way to incorporate this season's key colours into a look subtly. Opt for yellow [or green] to nod to the upcoming trend of citrus shades."
For a more casual approach, consider getting strappy with a PE-kit-style drawstring bag instead. Dublin-born brand Stighlorgan recently launched a version cut from high-quality leather. "It's understated yet simply functional," says director Christian Bourke. "Maybe back during our school days, we all used to understand a little better that simple really is best."
Key Styles
Utility Holdalls
Weekend bags have had a similar facelift for 2017. While there's only so much experimenting that can be done with a practical carry-all before it loses purpose, swapping a plain overnight bag for something more interesting will take the style stakes of a trip away up a notch.
"A weekend bag is a necessity rather than a luxury," says Topman creative director Gordon Richardson. "Look for a durable, on-trend material in a timeless style and it will see you through many travels to come."
For a solid utilitarian take, enlist the military. This year's examples are found in hardwearing canvas, leather or waxed cotton fabrics that resist wear and tear, with webbed strapping and a proliferation of pockets, earning it the title of a true utility piece.
Don't just keep the trend update to the outside, says Nic Crossick, managing director of British luggage company Case London. "Swap an empty interior for something more practical that allows you to easily transition from a work day to a weekend away – laptop and tablet pockets are a great start."
Key Styles
Modern Briefcases
The purpose of the briefcase has become somewhat complicated in recent years. With most other bags now handsome (and smart) enough to meet the needs of the nine-to-five thanks to relaxing dress codes, the sharp elegance of the once-ubiquitous work bag has been made redundant.
In order to stay relevant, today's shapes are adopting a more laid-back look, but one that still makes the bag a smart edition to any city roster.
A softer shape, with rounded leather or leather-trimmed edges in supple materials, rather than the sturdy box of days gone by, will keep the case from looking too Patrick Bateman fancy dress.
The high street is awash with business-ready black and brown versions in both smooth and pebble-grain leather, with interiors that house laptop sleeves, pen holders and numerous pockets for stowing smaller essentials.
"Such a versatile product has now become an essential part of most men's wardrobe, allowing them to easily transition from the work day into the evening," says Crossick of Case London. "Most brands are picking up on this and adding better organisation [to all bags]."
Key Styles
Grown-Up Satchels
Satchels and messenger bags are tricky territories. Get it wrong, and you risk looking like an emo teenager at a My Chemical Romance gig, but get it right, and you're on the fast track to Mr Ripley levels of preppy.
"No other bag suits modern living quite as perfectly as the messenger," says Barbour's director of menswear and accessories, Ian Bergin. "It's classic, practical and masculine – it takes you back to a time when life was a lot simpler," agrees Grenson owner and creative director Tim Little.
The key to this bag being an astute everyday choice in 2017 – in contrast to the briefcase – is to opt for a model with a structured body. Unlike the grubby, tattered edges of those carried by angst-ridden adolescents, an example crafted from leather will not only stand up to the rigours of daily wear but also get better the more you use it.
"When worn across the body, it's a true design classic," says Debenhams' head of menswear, Julian Fuller. "Canvas versions are great for the summer, but a real investment leather bag will last for seasons to come."
Key Styles
Pouches & Folios
This is the year the male clutch goes mainstream (just don't call it a 'mutch'). To help it get there, the modern document wallet comes in a variety of guises for 2017.
"Designed with practicality in mind, the folio is a simple, chic addition to any man's wardrobe," says Marks & Spencer menswear chief James Doidge. "Just larger than A4 size, and with multi zip compartments for documents and stationery, it's effortlessly stylish and organised."
For work, go sleek and sophisticated with options in neutral colourways, intended to keep documents pristine. To pack more of a punch out of hours, look to design-led versions or bolder colourways. Because of its small size, the pouch is big enough to make a statement without overpowering an outfit.
Similar to denim, patches and appliques on an otherwise classic design add personality to what's usually a sombre accessory. "It'll elevate a normal work outfit and make you stand out amongst your peers," says Henry Graham, co-founder of luxury independent retailer Wolf & Badger.
Key Styles
Luxury Totes
For a smart alternative to a backpack that fuses the same compact appearance but with the added practicality of a messenger, look to a luxury tote.
Although high-quality leather versions in neutral hues will get a lifetime of use, the style has made the leap from student book carrier to full-on fashion statement this season, so don't be afraid to go bold.
Because the tote is carried at arm's length, you can get away with a much more vivid design than if it was strapped to your body. As a result, tongue-in-cheek slogans, bolshy logos, all-over prints and crayon-box shades are all making an appearance for 2017.
Despite all the superficial benefits, the practical design should not be without its merits under the hood. Aside from a cavernous body, both soft, pliable leather and resilient nylon examples should boast quality metal hardware, sturdy handles and (preferably) a removable shoulder strap as standard.
Key Styles
You can check out the latest casting calls and Entertainment News by clicking: Click Here
Click the logo below to go to the Home Page of the Website
Click the logo below to follow ETInside on Twitter
Click the logo below to follow ETInside on Facebook

Click the logo below to follow ETInside on Instagram

Click the logo below to follow ETInside on Pinterest

Click the logo below to follow ETInside on Medium