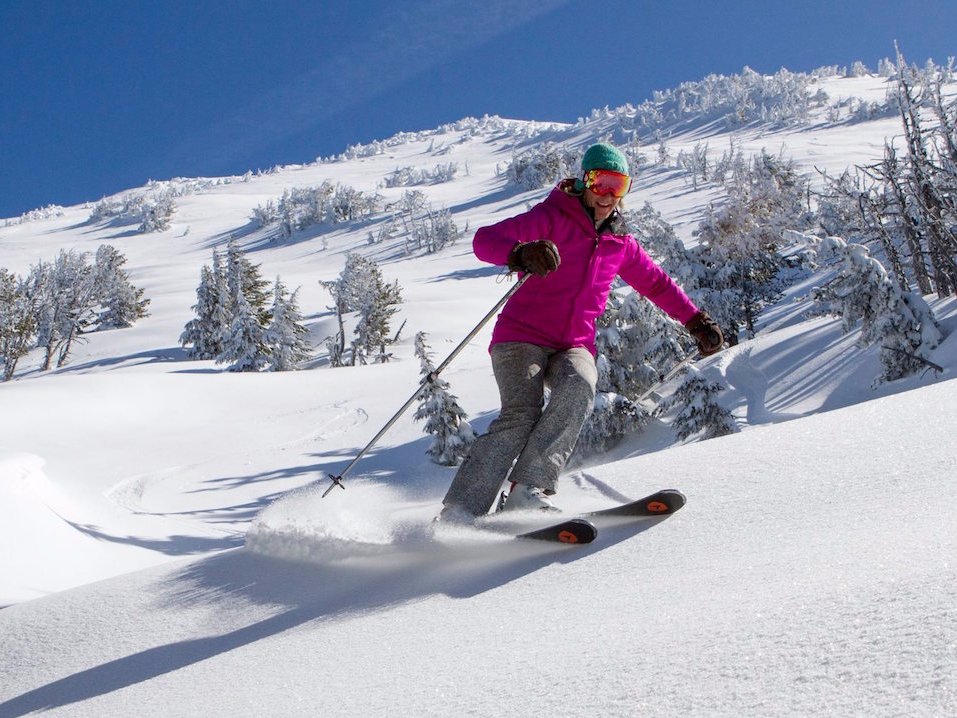 Now is the time to book your winter getaway — or start planning at the very least.
HomeToGo, a vacation rental search tool, has compiled a list of the most affordable ski resorts in North America so you can tear up the slopes, even if you're on a budget.
They gathered data for the 35 top-rated ski resorts in the US and Canada, and then estimated the average total cost of a one day/night stay. The final cost includes:
Equipment rental: mid-level skis, boots, poles, and a helmet for one day.
A one-day lift pass.
Lunch: a burger with fries and a soda at a mid-range restaurant on the slopes.
Accommodation: the average price per person for a four-person vacation rental found on HomeToGo in the resort, between December 16, 2017 and April 15, 2018.
When prices were unavailable from the resorts, HomeToGo based price forecasts for this winter on last season's prices.
Below, check out the 19 best and most affordable ski resorts in North America where a day of skiing plus an overnight stay costs less than $250:
19. Snowbird, Utah
Total cost (1 day/night): $249.85
Equipment rental and lift ticket: $172
Lunch: $15.50
Vacation rental: $62.35
18. Holiday Valley, New York
Total cost (1 day/night): $239.03
Equipment rental and lift ticket: $123
Lunch: $9.99
Vacation rental: $106.04
17. Diamond Peak, Nevada
Total cost (1 day/night): $231.37
Equipment rental and lift ticket: $149
Lunch: $14.00
Vacation rental: $68.37
16. The Summit at Snoqualmie, Washington
Total cost (1 day/night): $229.69
Equipment rental and lift ticket: $124
Lunch: $16.50
Vacation rental: $89.19
15. Squaw Valley Alpine Meadows, California
Total cost (1 day/night): $228.32
Equipment rental and lift ticket: $169
Lunch: $11.47
Vacation rental: $47.85
14. Sun Valley, Idaho
Total cost (1 day/night): $218.73
Equipment rental and lift ticket: $137
Lunch: $11.00
Vacation rental: $70.73
13. Mount Bachelor, Oregon
Total cost (1 day/night): $217.23
Equipment rental and lift ticket: $153
Lunch: $9.80
Vacation rental: $54.43
12. Schweitzer Mountain, Idaho
Total cost (1 day/night): $215.74
Equipment rental and lift ticket: $134
Lunch: $10.49
Vacation rental: $71.25
11. Mad River Glen, Vermont
Total cost (1 day/night): $213.72
Equipment rental and lift ticket: $119
Lunch: $16.50
Vacation rental: $78.22
10. Whitefish Mountain Resort, Montana
Total cost (1 day/night): $204.26
Equipment rental and lift ticket: $126
Lunch: $10.75
Vacation rental: $67.51
9. Banff, Alberta
Total cost (1 day/night): $201.48
Equipment rental and lift ticket: $135.77
Lunch: $11.18
Vacation rental: $54.53
8. Wildcat Mountain, New Hampshire
Total cost (1 day/night): $201.21
Equipment rental and lift ticket: $134
Lunch: $12.25
Vacation rental: $54.96
7. Crested Butte, Colorado
Total cost (1 day/night): $198.82
Equipment rental and lift ticket: $103.76
Lunch: $11.00
Vacation rental: $84.06
6. Taos Ski Valley, New Mexico
Total cost (1 day/night): $197.59
Equipment rental and lift ticket: $133
Lunch: $17.00
Vacation rental: $47.59
5. Mont Tremblant, Quebec
Total cost (1 day/night): $186.71
Equipment rental and lift ticket: $117.76
Lunch: $11.70
Vacation rental: $57.25
4. Cranmore Mountain Resort, New Hampshire
Total cost (1 day/night): $177.85
Equipment rental and lift ticket: $107
Lunch: $14.00
Vacation rental: $56.85
3. Snow Summit, California
Total cost (1 day/night): $171.84
Equipment rental and lift ticket: $101.50
Lunch: $11.53
Vacation rental: $58.81
2. Red Lodge Mountain, Montana
Total cost (1 day/night): $165.95
Equipment rental and lift ticket: $94
Lunch: $9.98
Vacation rental: $61.97
1. Bridger Bowl, Montana
Total cost (1 day/night): $159.57
Equipment rental and lift ticket: $100
Lunch: $11.23
Vacation rental: $48.34

Click the logo below to go to the Home Page of the Website
Click the logo below to follow ETInside on Twitter
Click the logo below to follow ETInside on Facebook

Click the logo below to follow ETInside on Instagram

Click the logo below to follow ETInside on Pinterest

Click the logo below to follow ETInside on Medium