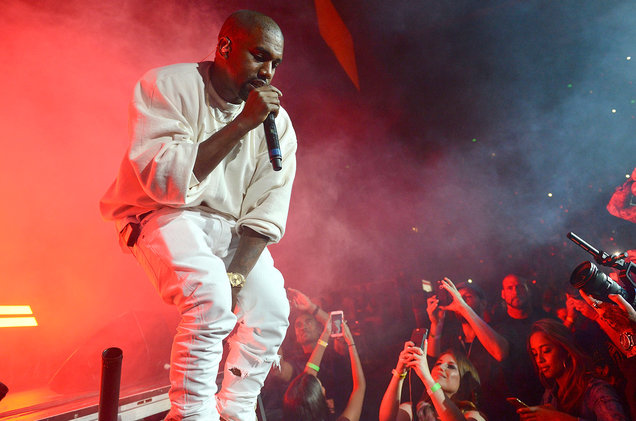 Rock stars and models have been hooking up since the days of Beethoven (probably), so it's only natural that music and fashion's relationship would eventually go deeper.
Front rows are regularly peppered with the Top 40s biggest names, and in return, the likes of Kanye West and A$AP Rocky have been supported to launch their own labels. Because nothing says 'thanks for coming' like a six-figure contract.
The latest to enter the arena is Tinie Tempah, whose debut What We Wear collection drops next month. To mark the launch, here we look at the lyricists-turned-Lagerfelds that went straight to number one.
Kanye West
From Balmain ads to Yeezy, via claiming credit for inventing leather sweatpants and overhauling the way men layer, Kanye has been a firm fashion fixture for well over a decade.
However, it hasn't all been smooth sailing for Mr West. Despite being more 'Ye than nay since that weird shutter-shade phase, his creative output has frequently been mocked by the press, with scathing reviews of his Adidas-funded, all-nude-everything collections.
Not that any of that has kept Pablo's clobber from shifting, mind. Several pieces – especially the Yeezy footwear line – barely touch the shelves before selling out.
Current Pieces
A$AP Rocky
"I would never want to be a fashion designer," said A$AP Rocky, who has spent the last few years, well, designing.
In addition to high-powered partnerships with the likes of Dior Homme and Gucci, the fashion killa has worked alongside both J.W Anderson and Guess, with another line of the latter on the horizon. We think it's safe to say he's caught the bug. Pull the other one, Rocky.
Liam Gallagher
If Britpop fever was a pandemic, consider Oasis patient zero. While the front pages focused on the Gallaghers' latest drunken antics, fans were busy imitating them with Glastonbury-appropriate parkas and a faux-Mancunian accent in tow.
Where others might have switched up their style to avoid cheap copies, Liam saw an opportunity. Realizing fans were just as obsessed with the look as they were the music, Pretty Green launched in 2009 to offer a Gallagher-worthy wardrobe to the masses.
Current Pieces
Pharrell
Pharrell's Dorian Grey-esque deal with the devil has resulted in one of the most youthful faces in the biz. And with an equally fresh approach to style, it comes as little surprise that fashion brands have enlisted the music world's Peter Pan on multiple occasions.
From Billionaire Boys Club T-shirts to Louis Vuitton sunglasses by way of Moncler outerwear, Williams has been collaborating with the best for decades. One of his most successful tie-ups came with Adidas – it even outsold Kanye's Yeezy range. If that wasn't enough to be 'Happy' about, the singer is credited with resurrecting the Superstar sneaker, which now accounts for £1 in every £10 Adidas makes. Not bad for someone who's over 300 years old.
Current Pieces
Tinie Tempah
"Tell Russell I'm a brand," said Tinie Tempah on one of his latest tracks, and he wasn't kidding either. Patrick Chukwuemeka Okogwu's ascent into the menswear elite has resulted in British Fashion Council ambassadorship, a permanent spot on best-dressed lists worldwide and, finally, his very own label.
What We Wear is a reflection of the 'Pass Out' star's own wardrobe, boasting tailored sportswear, boxy silhouettes and the odd showpiece (namely a translucent plastic cargo jacket). With an April launch date, it won't be long before What We Wear becomes what you wear, too.
Justin Bieber
We'd never condone spitting on fans and general arseholery, but there's no knocking Bieber's tour gear. His metal-inspired collaboration with Fear Of God designer Jerry Lorenzo kick-started the current craze for band merch, now pedalled by everyone from Drake to Zayn.
Covered in Vetements-inspired typography, the loose-fitting, distinctly un-pop collection was sold exclusively by Urban Outfitters, before spreading across the rest of the high street. The line vanished in just a few weeks as fans the world over placed some Purpose in their wardrobe (and some pounds in Bieber's purse).
Current Pieces
Maison Kitsuné
While not technically a musician, Maison Kitsuné – the record label behind some of electronica's hottest acts – has seen almost as much hype-chart success with its clothing as it did with Digitalism and Hot Chip.
The collections themselves are comprised of sharp wardrobe staples with the odd statement piece thrown in. Think French phrases, lots of pared-back, crisp Oxford shirts and plenty of tricolour flags. Liberte, Egalite, Simplicity.

Current Pieces
You can check out the latest casting calls and Entertainment News by clicking: Click Here
Click the logo below to go to the Home Page of the Website
Click the logo below to follow ETInside on Twitter
Click the logo below to follow ETInside on Facebook

Click the logo below to follow ETInside on Instagram

Click the logo below to follow ETInside on Pinterest

Click the logo below to follow ETInside on Medium