ETInside Online Magazine is committed to helping you by providing stories, advice and casting calls that will help you in your goal of accomplishing your dreams and living a better life. You won't find another website like ours. Why? Because we sit at our desk all day too to provide you with stories so that one day you won't have to answer to anyone but YOU! The ETI Finance section will provide you with advice on how to make and save money and be debt free while you go after your dreams and goals!
Create a Savings Account Specifically for Traveling
If you have a savings account specifically for traveling you won't spend that money on anything else. When an opportunity to travel presents itself you will easily know upfront if you can make it happen or not.
Restructuring your Budgets
For many families, if you create a travel savings account it means you will have to shift spending elsewhere because that extra cash won't appear from thin air. One year I looked at my credit cards' year in review statement and I was in shock at how much we spent on restaurants, mainly because we were just too lazy to cook. After seeing this, we reduced our eating out budget and applied those funds to our travel savings account.
To do this we bring our lunch to work 90% of the time and cook dinner 6 days a week. We also minimize the amount of drinks we order at bars and restaurants, instead opting to buy bottles at the liquor store that we can enjoy at our home for a fraction of the cost. You know your spending habits better than anyone so decide what costs you are willing to cut to create a travel savings account of your own.
Be Flexible With Your Destination
We never set our hearts on a specific destination. Instead we have a list of places we want to visit and we pick the place with the best deal. If your kids are in school and you're limited to traveling on their days off, sites like Skyscanner list affordable destinations based on your home airport and personal travel dates. If you're flexible like us you can base your travel destination and dates solely on flight deals. This worked out perfect last year for our trip to Australia. It's been on our bucket-list for a while but was on the backburner since prices are typically $1,500+. That changed immediately when United had a sale for $580 round trip. The deal was available during Australia's Summer making this deal even more of a steal. Thanks to The Flight Deal last November we were able to score RT tickets to Amsterdam for this August for only $400, when the deal was over the same flight was $1395.
Ditch Hotels and Opt for a Vacation Home
Vacation homes hit 3 of our must haves for affordable travel; they are usually much cheaper then hotels, they provide more space for families and most have a full kitchen! Of course while visiting to a new city one thing you always look forward to is trying the local cuisine but that doesn't mean you have to break the bank on eating out 3 meals a day. Renting a home allows us to go grocery shopping and cook at least one meal a day even if that's packing sandwiches for lunch, saving us a lot of cash.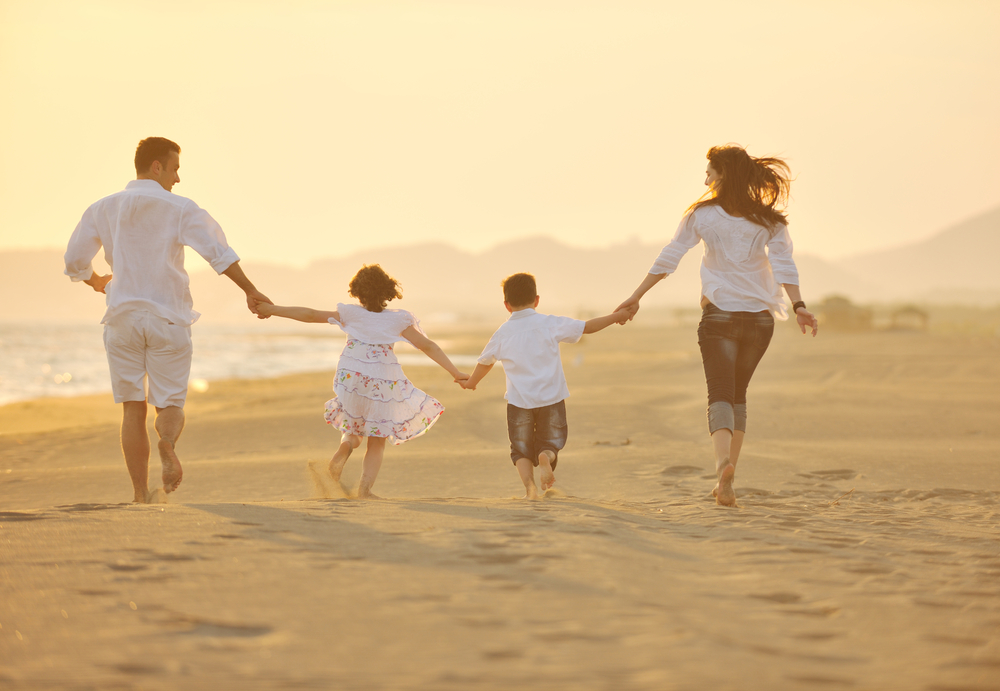 Use Groupons and Promo Codes
Groupons are available worldwide so always check to see if you can find a tour or activity you already planned on doing. Also check to see if that city has a multi-attraction pass where you get entry to multiple places for one price. Before purchasing anything online look for promo codes, a quick Google search typically saves us 10-20%.
Take Public Transportation at Your Destination
Immerse yourself in the local life and take public transportation if available. Renting a car or Ubering can be very expensive and traveling with car seats or getting one at your destination can be a pain. Some big cities even have unlimited daily or weekly passes making public transit even more affordable.
Get a Travel Credit Card
Each year we earn enough points on our Chase Sapphire credit card to get round trip flights for the family just but buying the things we have to on a daily basis. I prefer credit cards where your points can be used for any airline versus being tied to one since we fly various airlines based on the current deals. Travel credit cards also have other perks like built in travel insurance for unexpected delays, cancellations or lost luggage!
You can check out the latest casting calls and Entertainment News by clicking: Click Here
Click the logo below to go to the Home Page of the Website
Click the logo below to follow ETInside on Twitter
Click the logo below to follow ETInside on Facebook

Click the logo below to follow ETInside on Instagram

Click the logo below to follow ETInside on Pinterest

Click the logo below to follow ETInside on Medium