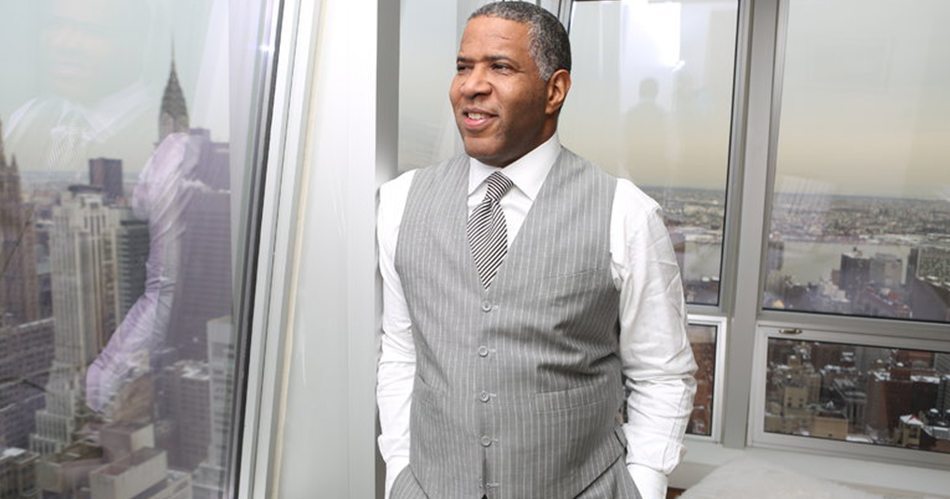 Robert F. Smith is the billionaire everyone is talking about, but nobody knew about just a few months ago. He is the 53-year-old founder of the private equity firm, Vista Equity Partners. Vista deals in the not-so-sexy category of enterprise software, which might be why he's flown under the radar until now. Smith was recently on the cover of Forbes richest Americans issue, which is how he came to our attention. His net worth of $2.5 billion makes him number 268 on the list of the wealthiest Americans. It also makes him the second wealthiest African American behind Oprah Winfrey. But who is Robert F. Smith and how did he get so stinkin' rich?
Robert F. Smith was born on December 1, 1962 in Denver, Colorado. He is a fourth generation Coloradan. His schoolteacher parents both have PhDs. When he was an infant, Smith's mother carried him at the March on Washington, where Reverend Dr. Martin Luther King Jr. gave his famous "I Have a Dream" speech. He grew up in a mostly African American middle class neighborhood in Denver.
Smith showed tenacity early in life. In high school, he applied for an internship at Bell Labs. The problem was, the program was for junior and senior college students only. Smith was undaunted. He called the H.R. Director at Bell Labs every single day for two weeks. Then he cut back and just called every Monday for another five months. When an intern from M.I.T. didn't show up in June to start the internship, the H.R. Director finally called him back and Smith got the job. While interning at Bell Labs that summer, he developed a reliability test for semiconductors.
Smith got his B.S. Chemical Engineering from Cornell University and continued to work as an intern at Bell Labs during his summer and winter breaks from his undergraduate studies. After Cornell, Smith went on to Columbia University to get his MBA. Once that was accomplished, he headed right to Wall Street and a job at Goldman Sachs. From 1994 to 2000, Smith, as co-head of enterprise systems and storage investment banking, advised on $50 billion in tech merger and acquisition deals.
In 2000, Smith left Goldman Sachs and launched Vista Equity Partners. In the 15 years since then, Vista has grown to nearly $16 billion in assets and generated insane returns for its investors. Vista has delivered a whopping 31 percent average annual rate of return to its investors since 2000.
The fund's success is all in Smith's strategy. Unlike other Silicon Valley investors who look to fund the next hot startup, Smith takes a decidedly utilitarian approach to investing. He intentionally invests in Silicon Valley's lesser known companies. He seeks out software and technology companies that aren't at all flashy. Smith has kept Vista's focus on the unglamorous sector of enterprise software and technology. Vista is currently valued at $4.3 billion. Smith controls a majority stake in his firm.
Smith may take a non-flashy approach to investing, but his personal life is about as flashy as flashy gets. This summer, Smith married former Playboy Playmate of the year, Hope Dworaczyk. The couple got married in a lavish, over-the-top ceremony that included private performances from John Legend, Seal, and Brian McKnight. Legend serenaded the bride as she walked down the aisle and the couple danced their first dance as man and wife under a custom light display that read "Mr. and Mrs. Smith." Smith and his 30-year-old bride married on Italy's Amalfi coast. The couple rented out the Hotel Villa Cimbrone for the star-studded event.
Smith is also Chairman of the Robert F. Kennedy Center for Justice and Human Rights, Member of the Cornell Engineering College Council, and a Trustee of the Boys and Girls Clubs of San Francisco. He is a Board Member of Carnegie Hall and an avid fly fisherman.
We may have been unaware of Robert F. Smith before now, but one thing is for sure, we're never going to overlook him again!
You can check out the latest casting calls and Entertainment News by clicking: Click Here
Click the logo below to go to the Home Page of the Website
Click the logo below to follow ETInside on Twitter
Click the logo below to follow ETInside on Facebook

Click the logo below to follow ETInside on Instagram

Click the logo below to follow ETInside on Pinterest

Click the logo below to follow ETInside on Medium