Part 2 of ETI's 5 part series listing the top 100 TV shows of all times. Log in tomorrow at noon to see part 3. From time-capsule sitcoms to cutting-edge Peak-TV dramas — the definitive ranking of the game-changing small-screen classics, here are shows 79 – 60. Follow ETInside on Twitter, Facebook and Instagram and let us know what you think of our list.
You can check out list 100 – 80 by clicking: Click Here
There's never been a creative boom for TV like the one we are living through right now. Ever since The Sopranos changed the game at the turn of the century, we've been in a gold rush that gives no signs of slowing down. What better moment to look back and celebrate the greatest shows in the history of the art form?
So we undertook a major poll – actors, writers, producers, critics, showrunners. Legends like Carl Reiner and Garry Marshall, who sent us his ballot shortly before his death this summer. All shows from all eras were eligible; anybody could vote for whatever they felt passionate about, from the black-and-white rabbit-ears years to the binge-watching peak-TV era. The ratings didn't matter – only quality. The voters have spoken – and, damn, did they have some fierce opinions. On this list you'll find vintage classics and new favorites, ambitious psychodramas and stoner comedies, underrated cult gems ripe for rediscovery, cops and cartoons and vampire slayers. You'll find the groundbreaking creations of yesteryear as well as today's innovators. (There was nothing like Transparent or Orange Is the New Black or Game of Thrones a few years ago, but who could imagine this list without them?) Our list is guaranteed to start plenty of loud arguments – but the beauty of TV is how it keeps giving us so much to argue about.
79. 'In Living Color'
1990-94
Keenan Ivory Wayans blew the roof off with this hit, bringing a hip-hop sensibility to sketch comedy. In Living Color had Homey the clown ("Homey don't play that"), the World's Hardest-Working West Indian Family ("I have 15 jobs!" "You lazy lima bean!") and a rubber-faced token white guy then-called James Carrey. (Whatever happened to him?)
78. 'Thirtysomething'
1987-91
The ultimate yuppies-in-love drama, as ad execs and their wives reckon with parenthood, marriage, work and real estate. Thirtysomething's white-collar suburbanites climbed the corporate ladder, looking for ways they could live with their compromises both at work and at home.
77. 'The Walking Dead'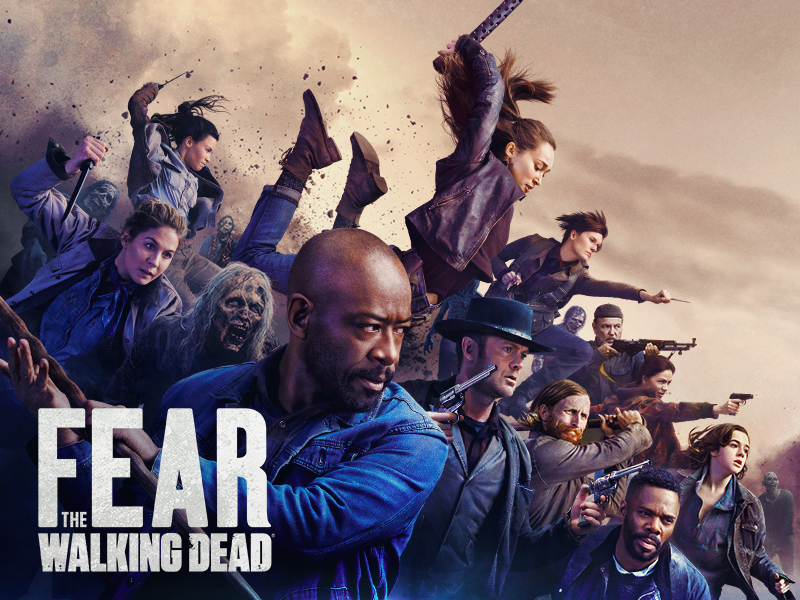 2010-Present
The zombie apocalypse to end all zombie apocalypses, based on the Robert Kirkman cult comic book. AMC's The Walking Dead is a monster hit in every sense of the word, with a band of humans battling to survive the onslaught of the undead walkers, featuring some of the small screen's most viscerally repulsive violence.
76. 'Late Night With Conan O'Brien'
1993-2009
When a redheaded nobody named Conan was announced as the successor to Letterman, everyone assumed his talk show would bomb even faster than Chevy Chase's. But over the years, nobody could touch Conan for sheer comic velocity and masturbating-bear-worthy weirdness. Even now, exiled to TBS, Conan continues to give the world Triumph the Insult Comic Dog, which would be enough to seal his legend.
75. 'American Crime Story: The People vs. O.J. Simpson'
2016
Even after all Ryan Murphy has achieved, he proved he's still peaking with a 10-part miniseries of the O.J. murder case. With out-of-nowhere career performances from John Travolta, Sarah Paulson and David Schwimmer, it made the ultimate made-for-TV trial disturbing all over again.
74. 'The Ren & Stimpy Show'
1991-95
In the post-Simpsons days, when everybody was watching to see where the next great animated comedy was coming from, it turned out to be John Kricfalusi's Nickelodeon toon about this lovable duo – a high-strung Chihuahua and his loyal cat pal. Happy happy, joy joy.
73. 'Transparent'
2014-Present
Jill Soloway's painfully compassionate drama was like nothing else the screen had seen before – and remains that way, with Jeffrey Tambor as the patriarch-unto-matriarch of a bitterly estranged family, transitioning from Mort to Maura on sheer nerve. Transparent hits emotional notes on every level – who can forget the Trans Got Talent show where Maura sings "Somebody That I Used to Know" to the empty chairs she reserved for her kids? Sing on, Maura.
72. 'Girls'
2012-Present
Lena Dunham aspired to be the voice of her generation – or at least a voice of a generation – with this unflinching HBO sitcom about a quartet of acid-tongued young women failing their way through their twenties, striking out at relationships, rehab, careers, school and basically everything else they attempt.
71. 'Mr. Show'
1995-98
What completely bizarre careers Bob Odenkirk and David Cross have had – and how bizarre that we first met them as the duo behind this wild-ass HBO cult sketch show, always erratic but often astounding, with future stars like Sarah Silverman in the crew. They excelled at high-concept stunts like their Jesus Christ Superstar parody, with Jack Black as the hippie messiah, or the gay metal band Wyckyd Sceptre. Best line: "I'm not talking to clouds on a sunny day!"
70. 'Roseanne'
1988-97
The lights go out. The Conner family just got their electricity cut off because they can't pay the bill. Out of the darkness, Roseanne's voice: "Well, middle class was fun." Roseanne came as a blast of Midwestern blue-collar grit that made all other Eighties sitcoms look like contemptible fluff as soon as it dropped. She was the unsaintly matriarch of this struggling heartland family, with biker husband John Goodman and Laurie Metcalf as her hard-luck sister, Jackie. Roseanne carried the torch during a truly wretched time for network comedies.
69. 'The Ed Sullivan Show'
1948-71
The Ed Sullivan Show aired live on Sunday nights as America's big showbiz variety fest, presided over by a granite-faced host who didn't look more than a century or two old. Sullivan gave the Beatles their big U.S. debut, breaking ratings records in 1964 when 73 million Americans tuned in to see the moptops do "She Loves You." He was also the guy who censored Elvis from the waist down and ordered the Stones to change "Let's spend the night together" to "Let's spend some time together," which may help explain why he finally went off the air in 1971.
68. 'The State'
1993-95
The MTV comedy show was a whiff of youthful arrogance in the early Nineties, with 11 college wise-asses running wild in manic sketches about monkey torture, Muppet-eating and the mailman who only delivers tacos. After three years on MTV, they jumped to a network – and got destroyed amid the corporate machinery. But their cult kept growing, especially after they masterminded Wet Hot American Summer.
67. 'The Odd Couple'
1970-75
Tony Randall was neurotic neat-freak Felix; Jack Klugman was cigar-chomping sportswriter slob Oscar. Thrown out by their wives, they shared a Park Avenue bachelor pad, taking out all their midlife male angst on each other. Though based on Neil Simon's play, it worked even better in sitcom form, thanks to Randall and Klugman's negative chemistry and that perky theme song – their dance on a Central Park lawn is one of the truly romantic visions of New York.
66. 'Downton Abbey'
2011-16
Welcome to the aristocratic English countryside circa 1912, where Julian Fellowes' Crawley family acts out the decline and fall of the British Empire, from the bed-hopping elites to the downstairs schemes of the servants. Dame Maggie Smith steals the show as the delightfully nasty shade queen Dowager Countess, who does a better job than anyone else here at pretending the world isn't changing. Her best line: "What is a 'weekend'?"
65. 'Happy Days'
1974-84
R.I.P. to the late, great Garry Marshall. The sitcom maestro's opus was this 1970s hit set in the 1950s, with Henry Winkler as the Fonz, the leather-boy greaser who ruled Arnold's Drive-In with his nerd pals Richie, Potsie and Ralph Malph. It's easy to forget the Fonz had a dark introspective side – best seen in the surprisingly harsh episode where he stars in Richie's production of Hamlet ("I thought a couple of times about whether I wanted 'to be or not'"). Happy Days gave us Scott Baio as the Fonz's douche cousin Chachi, but that can be forgiven, as can the time Fonzie got on water skis for an aquatic stunt that invented the concept of "jumping the shark."
64. 'Chappelle's Show'
2003-06
Comedy – it's a hell of a drug. Dave Chappelle was an electric madman genius who defied any attempt to predict his next move – sometimes his Comedy Central show was brilliant, sometimes it was crap, and he eventually decided it wasn't worth the money or the trouble. But it sent shock waves through pop culture, whether Chappelle was immortalizing Charlie Murphy's memories of Rick James ("He is a habitual line-stepper") and Prince ("This bores me") or playing the world's only blind black white supremacist. It's a celebration, bitches!
63. 'The Wonder Years'
1988-93
Timed perfectly for the late Eighties, The Wonder Years depicted the childhood of baby boomers in the most nostalgic terms, as Fred Savage's Kevin Arnold grew up in 1960s suburbia and learned about life from the girl next door, Winnie Cooper – played by future mathematician Danica McKellar.
62. 'Sex and the City'
1998-2004
Or The Golden Girls: The Early Years. This shoe-porn Manhattan fantasy was ubiquitous, to the point where Jay Z could rap that Beyoncé wouldn't talk to him when Sex and the City was on. Nothing could stop fans from feeling the Carrie fever, as Sarah Jessica Parker and her clique – Cynthia Nixon, Kristin Davis, Kim Cattrall – date, shop and quip their way through a borough full of rich straight guys, eventually realizing their only true soulmates are one another. And maybe also Manolo Blahnik.
61. 'Your Show of Shows'
1950-57
Sid Caesar perfected the sketch-comedy format in the Fifties, with legends like Carl Reiner and Imogene Coca. When Nanette Fabray replaced Coca in 1954, the title changed to Caesar's Hour, but the spirit remained the same. His writers' room broke in hungry young rookies like Mel Brooks, Neil Simon and Woody Allen. Flights like the 1955 opera Gallipacci still look fresh – especially when the manic Caesar whimpers "Just One of Those Things," in clown drag, blubbering in pure faux-Italian gibberish. Indescribably moving, not to mention seriously fucked up.
60. 'Beavis and Butt-Head'
1993-97, 2011
Mike Judge captured the spirit of American adolescence, epitomized by two cartoon butt-munches who live for metal, nachos and breakin' the law (or at least putting poodles in the washing machine). It was liberating how cheap and crummy the animation looked, compared with the sophisticated rococo of The Simpsons or Ren & Stimpy, but Beavis and Butt-Head spoke their own kind of trash poetry, whether they were heckling MTV ("Stop in the name of all which does not suck!") or looking for wholesome fun: "This sucks. Let's go over to Stewart's house and burn something." And they hung with Daria, who got her own classic show. Kids, do try this at home.
You can check out the latest casting calls and Entertainment News by clicking: Click Here
Click the logo below to go to the Home Page of the Website
Click the logo below to follow ETInside on Twitter
Click the logo below to follow ETInside on Facebook

Click the logo below to follow ETInside on Instagram

Click the logo below to follow ETInside on Pinterest

Click the logo below to follow ETInside on Medium