Love will never do nowadays without the bundle of joy Janet Jackson brought home this year.
Our followers on Twitter receives casting call days before we post it on the website. Anyone who doesn't follow ETInside on Twitter, Facebook and Instagram you must submit to this casting at the last minute. Make sure to follow ETInside so that you can get up-to-the-minute casting calls and entertainment jobs that you will not find on the our website.
You can check out the latest casting calls by clicking: Click Here
After years of fielding questions about having children one day, the pop legend became a first-time mom on Jan. 3 when she and husband Wissam Al Mana welcomed son Eissa Al Mana. Jackson scrapped a world tour back in April 2016 to devote herself to family planning, and was only spotted a handful of times out and about in London from the time she her pregnancy was first reported until she gave birth. A source told E! News that she didn't have the "easiest pregnancy," but the measures she took to ensure utmost privacy were nothing new—particularly since she married Al Mana.
Upon arrival, however, Eissa became the love of Jackson's life.
Eight months later, she's back on tour, looking fit and healthy—and she's going it alone, having separated from Eissa's father just a few months after their son was born.
Of course, it's impossible to be alone if you're Janet Jackson.Aside from the team that goes into making her State of the World Tour go round, she has her tight-knit inner circle and one of the most famously sprawling families in showbiz history to rely on for moral and hands-on support—though she's been Eissa's devoted premiere caretaker since day one."She's doing all the baby talk to the baby and playing with him constantly—all that stuff," her older brother Tito Jackson told People earlier this month. "She changes all the diapers—she does it all."
When she announced in May her plans to resume her tour, previously known as the Unbreakable Tour, she assured that the new name wasn't about politics. "It's about people, the world, relationships, and just love," she said in a video message.Love lost and found, that is, as her world couldn't look more different now that she's a single mom returning to the spotlight than it did when she put her tour on hold.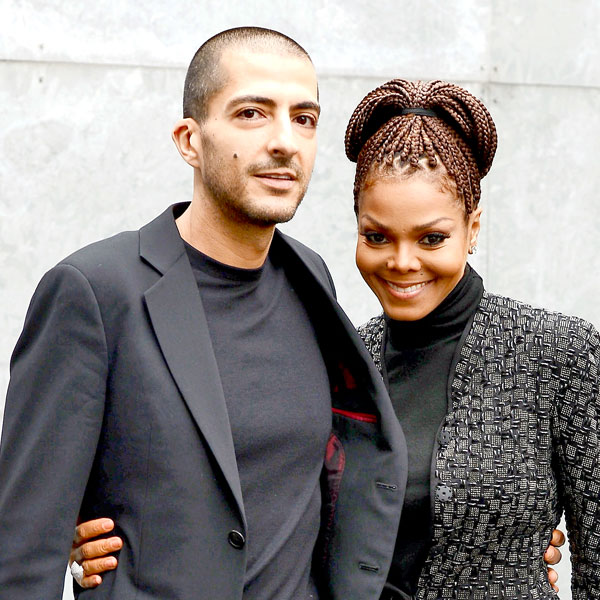 Not long after she told Harper's Bazaar she was "locking [herself] in for work" after her breakup with longtime boyfriend Jermaine Dupri and the death of brother Michael Jackson, Janet met the Qatari-born, London-bred Al Mana in 2010 at a party in Dubai. They started dating a few months later, enjoying the jet-set lifestyle that naturally occurs when one of the best-selling musical artists of all time joins forces with a millionaire international businessman.
"I think a man's dream woman changes as he goes through different stages in his life. I'm fortunate to be dating my dream woman now," Al Mana told Harper's Bazaar Arabia in 2011. They ended up marrying in a top-secret ceremony in Doha, Qatar, in 2012—and Jackson finally confirmed that she was a married woman in February 2012.Both spouses were on the same page when it came to privacy—as in, privacy was paramount, with Jackson having grown up with a front-row seat to the ravages of too much media attention. She experienced it firsthand starting when she was a child appearing on Good Times and performing with her family and then witnessed how relentless attention sent Michael scurrying into a dangerously isolated world."I'm grateful for success. Success is wonderful," she wrote in her 2011 book True You. "The truth, though, is that being in the spotlight can complicate personal problems even more. You never have a chance to deal with yourself privately and work through issues on your own. Everything is on display for the world to see."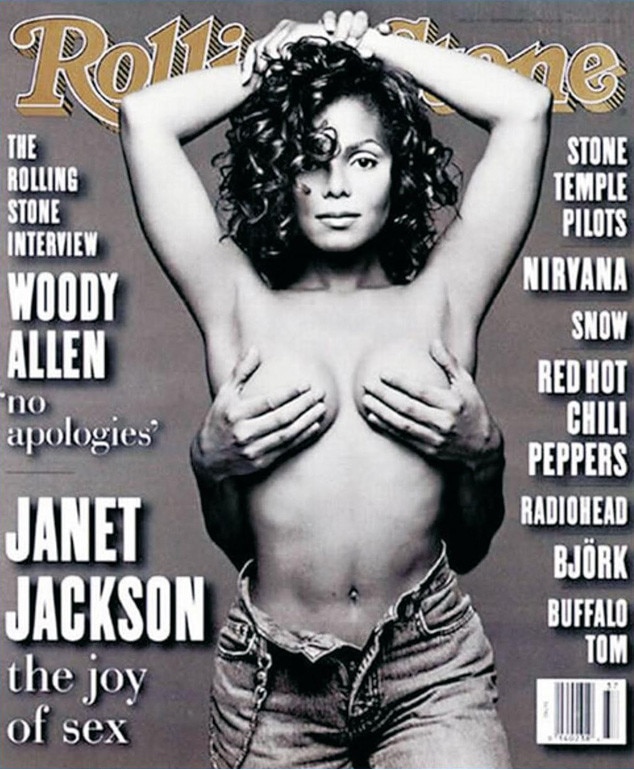 Another thing that became paramount when Jackson married Al Mana: modesty.The pop artist who memorably went topless, minus a pair of hands, on the cover of Rolling Stone and whose soulful, seductive music has set the tone for many a baby-making session over the years started dressing noticeably more conservatively—both on the street and in concert. And though Janet Jackson was never known for being extraordinarily provocative in the fashion department before, she was known for embodying strength and sensuality.It was during her janet.-fueled, "That's the Way Love Goes" period in the 1990s that Jackson said she finally felt comfortable enough in her own skin to show some of it off. "I've had to go through some changes and shed some old attitudes before feeling completely comfortable with my body. Listening to my new record, people intuitively understand the change in me," she told Rolling Stone in 1993."You see," she added, "sex isn't just fire and heat, it's natural beauty. Doing what comes naturally. It's letting go, giving and getting what you need."Moreover, Jackson had a very particular vision for her album's sound, the corresponding music videos and every other aspect of the janet. experience. "Every aspect of my recording or performance is vital," she said. "Nothing happens without my approval."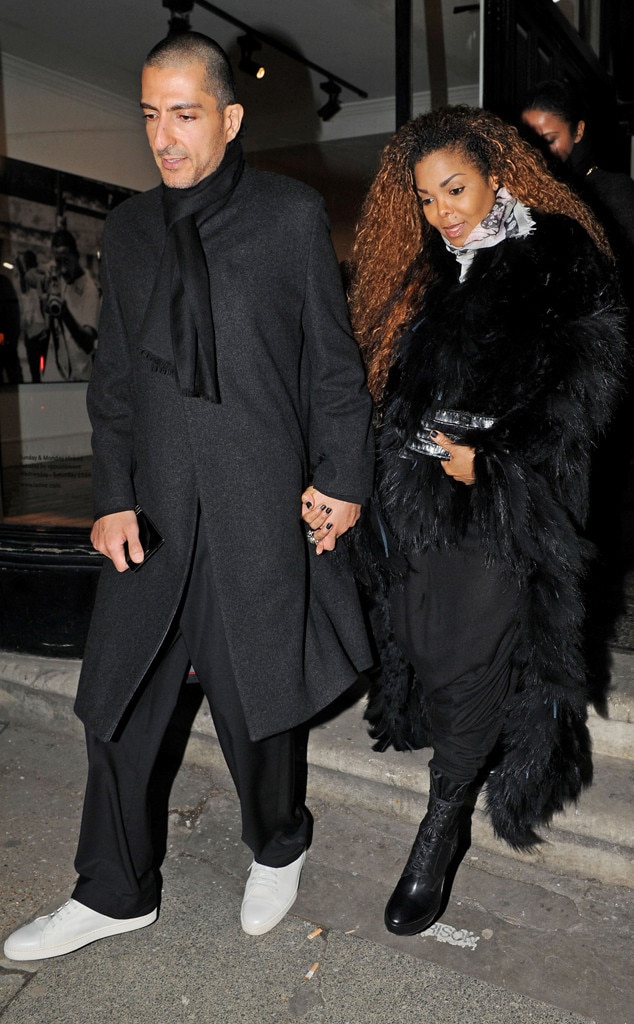 The famously introverted Jackson was raised a Jehovah's Witness (she admittedly had a "sheltered background") but, like Michael, she distanced herself from the religion when she left the family fold. She remained intensely spiritual, however, often answering questions about relationships and having children by saying it was ultimately in God's hands.Al Mana, meanwhile, is Muslim, and sources told E! News (after the couple broke up) that when they were married Jackson did try to conform more closely to what her husband wanted in a wife, but ultimately the culture clash was insurmountable."Janet and Wissam don't see eye to eye on many things," an insider told E! News recently. "One of the many divorcing factors was their religious beliefs. Wissam and Janet did not feel that they were on the same page when it came to this and the way they wanted their child to get raised. Janet is more of a free spirit than Wissam. Cultural difference and backgrounds played a major role."
While we were told that it turned into a "toxic" situation, Janet's brother Randy Jackson told People that Al Mana "verbally abused" his sister. (Al Mana's attorney said in a statement: "Mr. Al Mana is not going to dignify these particular and deeply hurtful allegations with a response. The breakdown of his marriage to Janet Jackson is a cause of great sadness to Mr. Al Mana, and it is the well-being and privacy of their son, Eissa, that remains his sole focus.")
"It was quite an abusive situation," the Jackson sibling said. "It came on later in the relationship, verbal abuse and being [made to feel like] a prisoner in her own home. No pregnant woman needs to go through being called a bitch everyday. There were things like that. That's what she went through."Twenty years ago, Janet Jackson made her desires clear, when the theme of what she was striving for, creatively, was "a woman who finally feels good enough about her sexuality, to demand a man's respect." She told Rolling Stone, "It's insulting to be seen as some object; he must call her by name. It's not a brazen demand—I didn't want to be obnoxious—but I wanted to be clear. Women want satisfaction. And so do men. But to get it, you must ask for it. Know what you need. Say what you want. Sexual communication is the name of the game. Intimacy."The increasingly untenable situation hit an impasse once Eissa was born and Jackson decided to move on with her life.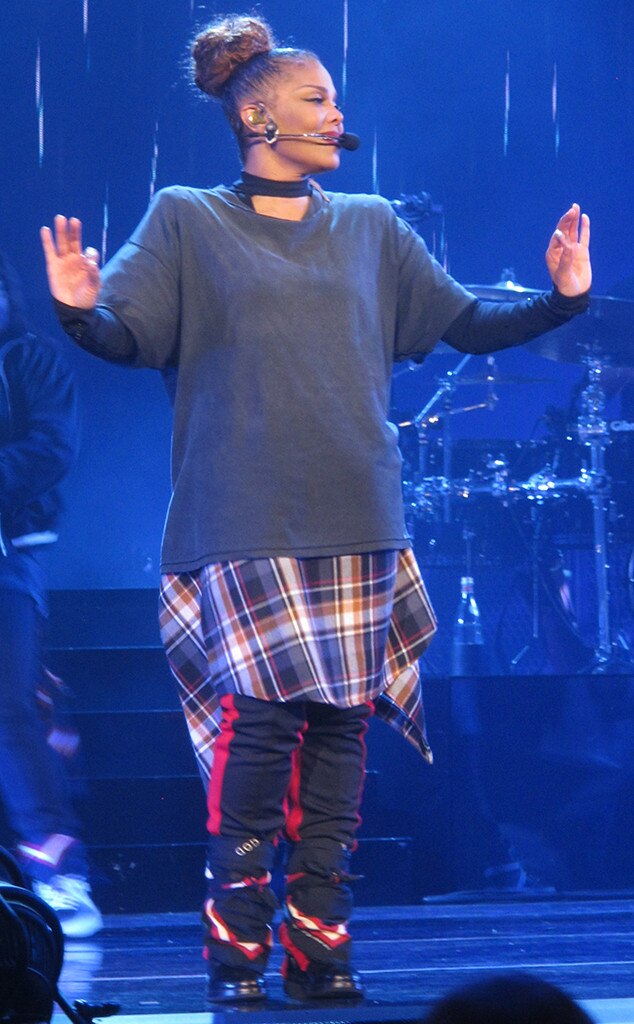 "Janet is a very shy women and hates confrontation and avoids it at all cost," our source says. "She doesn't regret" the years she spent with Al Mana, as they had "a strong love" and "made a healthy baby."That being said, the exes were in divorce court in London this summer to hash out custody issues. "She has the support of her family and has a crazy good legal team behind her," a source told E! News in June. The following month, Jackson brought Eissa with her to New York where she had a series of business meetings to attend in preparation for her tour."She is very hands-on and carried the baby the whole way through the airport. Eissa is adorable and Janet looked great," a source told People. "Happy and in great shape."More recently, though she's hardly ready to begin dating again, we hear that she's open to what fate may bring on the romantic front. But for now, an insider says, "Janet is in no rush. She is in a really happy, happy place surrounded by people that love her."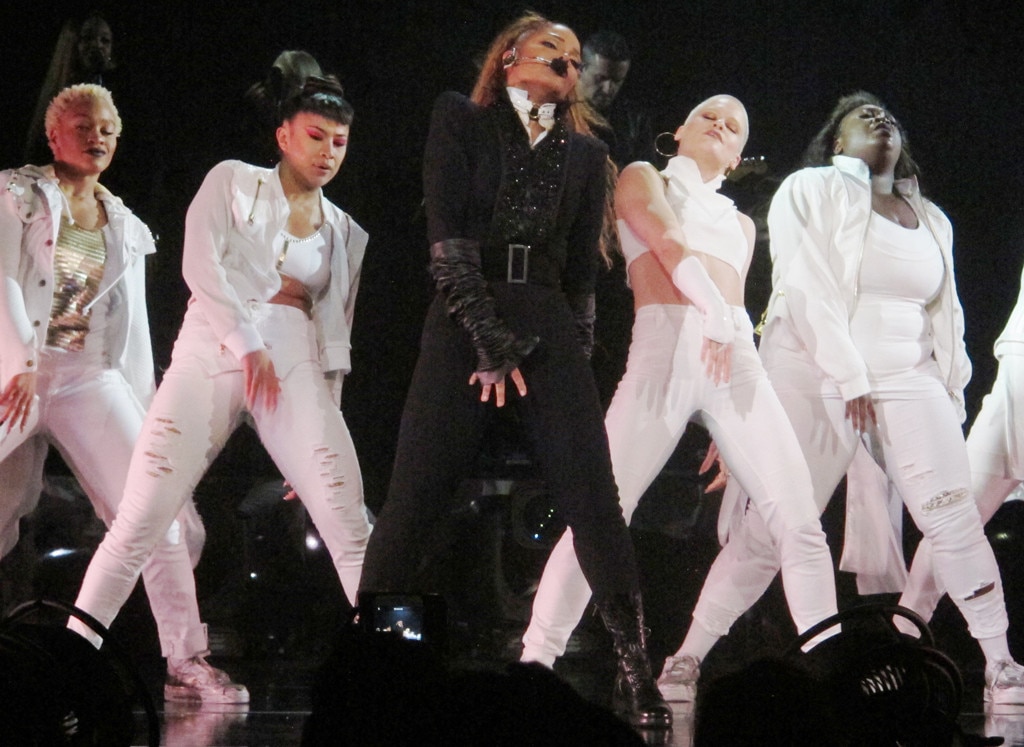 And that includes the thousands of fans who are already packing her concerts. On Sept. 7, Jackson returned to the stage for the first time in almost 18 months, kicking off her newly christened State of the World Tour in Lafayette, La., to rave tweeted reviews from show-goers. Two nights later, in Houston, she dissolved into sobs after singing "What About," which is about domestic violence. After giving herself over to her emotions for a few minutes, she collected herself and declared, "This is me."Cue the thunderous approval.
On the home front, Jackson remains very close to her mother, Katherine Jackson, who flew to stay with her baby girl (Janet was the youngest of 10) in London a few weeks after Eissa was born. And of course, Janet's having the time of her life getting to know her son. (And Eissa is slowly but surely getting to meet his eight aunts and uncles and countless cousins.)
Her longtime producer Jimmy Jam told Us Weekly in June that Janet would show off Eissa during their FaceTime chats.
"One of the treats of sort of being the uncle to Eissa is I get Facetimes at like one or two in the morning, usually when I'm wrapping up in the studio, and it's always just Eissa!" Jam said. "She just puts Eissa in front of the camera. Cutest baby in the whole history of babies."
Tito Jackson told People that his little sister "loves" being a mother. "I asked her, 'How are you getting along with this?' and she said, 'Tito, I love it.' She just loves her baby. She's great at being a mother. It's really great. I guess it sort of makes her feel complete."
"It was really different for me to see her as a mother," he added. "It's her first baby and she has always been the baby in our family, so that was a little strange in itself!"
You can check out the latest casting calls and Entertainment News by clicking: Click Here
Click the logo below to go to the Home Page of the Website
Click the logo below to follow ETInside on Twitter
Click the logo below to follow ETInside on Facebook

Click the logo below to follow ETInside on Instagram

Click the logo below to follow ETInside on Pinterest

Click the logo below to follow ETInside on Medium