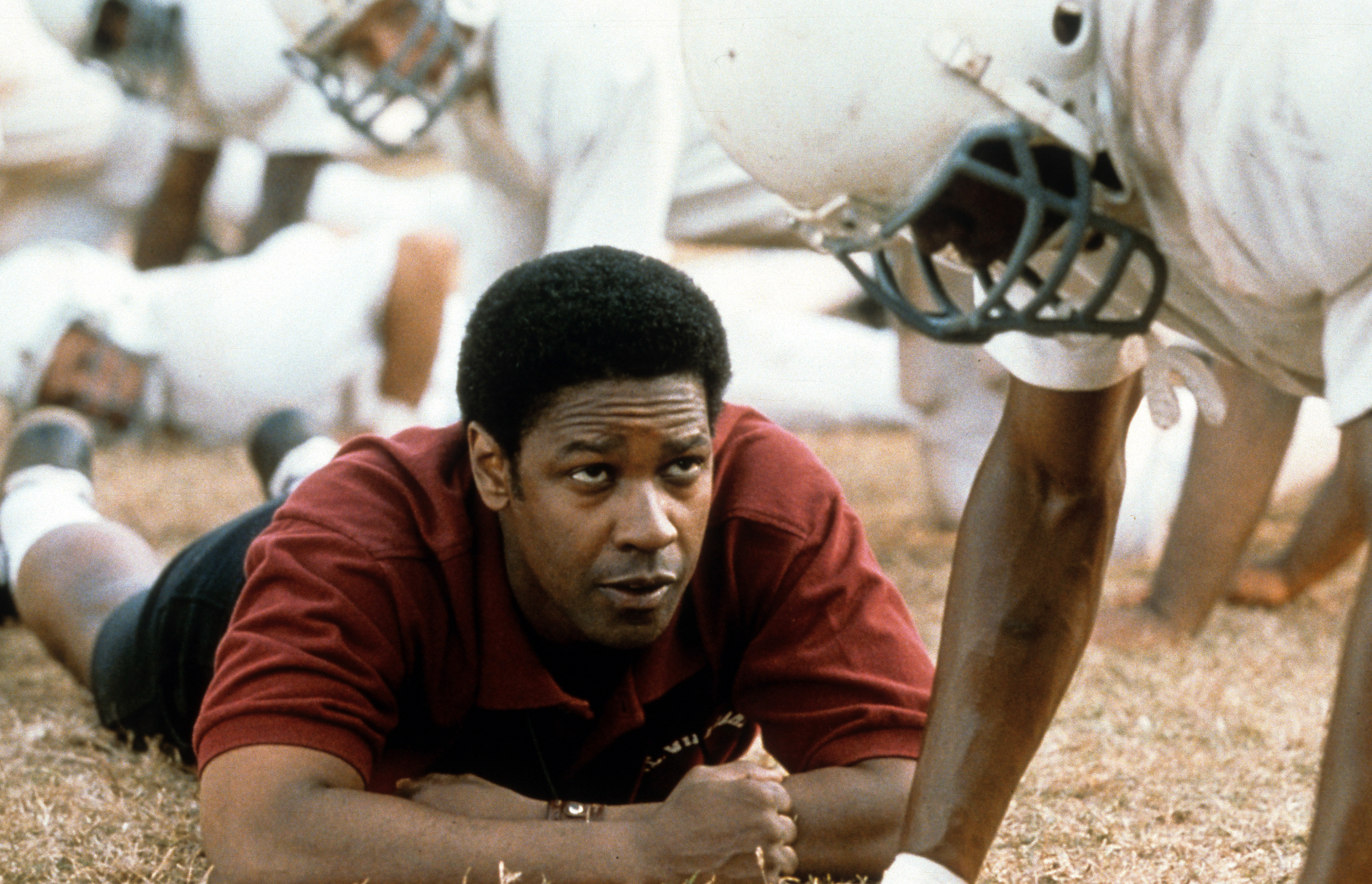 All right, so yes: That Super Bowl was terrible. Not "halftime-show bad," but pretty bad. Still, it shouldn't turn you off from football entirely. We have a long six-plus months until the next NFL game, but fret not: You can spend that time watching the greatest football movies ever made. Some are great, some are so-so, but they are all better than Patriots-Rams.
Friday Night Lights (2004)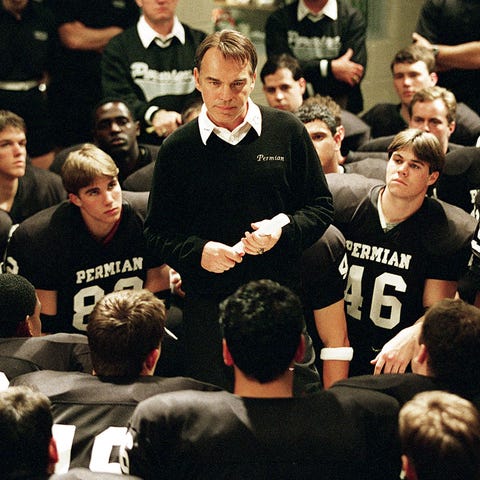 Before there was a beloved NBC series—but after there was an acclaimed Buzz Bissinger book, which inspired the whole thing — director Peter Berg zeroed in on how high school football is like a religion for small-town America. The film really comes alive in the big-game sequences during the electric ending.
The Waterboy (1998)
If you adjusted for inflation, this remains Adam Sandler's highest-grossing hit, and it's easy to see why. The super-charged idiocy of his early hits is merged with the crowd-pleasing conventions of the sports movie. You'll hate yourself for laughing, but not enough to stop laughing and laughing.
The Replacements (2000)
The premise of this comedy may be somewhat problematic – it's tough to root for picket-line cutters in 2019 – but Keanu Reeves is surprisingly winning as the underdog quarterback. And having Gene Hackman as your coach never hurts.
Concussion (2015)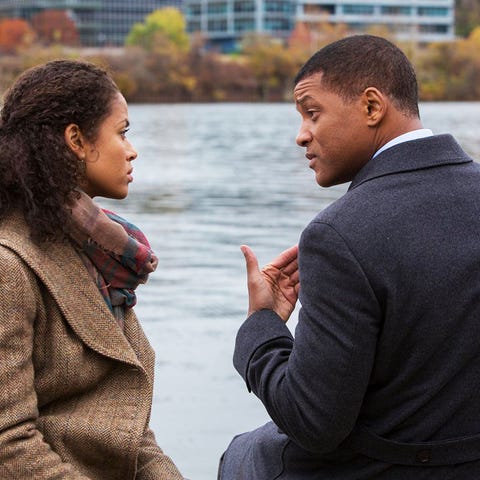 One of Will Smith's finest latter-day performances is in this sincere drama about the real-life doctor who helped uncover the dangers of CTE. Twenty years from now, Concussion may be taught in classes to show students what it was like when the world first became aware of how football destroyed so many lives.
The Blind Side (2009)
Sandra Bullock won the Oscar for her portrayal of Leigh Anne Tuohy, a concerned mother who takes in an African-American teen, Michael Oher (Quinton Aaron), with a difficult home life but a talent for football. The Blind Side is well-meaning awards fodder shot through with a lot of heart.
Invincible (2006)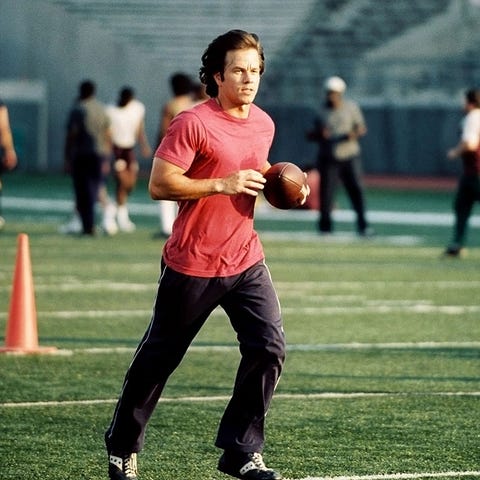 Sort of a tough guy's version of Paper Lion, this is the real-life story of a bartender (Mark Wahlberg) who goes to an open tryout for the Eagles and ends up making the team and having a successful career. It's also worth noting this inspired a particularly amusing episode of It's Always Sunny in Philadelphia.
Brian's Song (1971)
The original manly football fan's two-hankie weeper, this story of the friendship between Bears running back Gale Sayers (Billy Dee Williams) and his teammate Brian Piccolo (James Caan), who is diagnosed with a fatal disease, is a heartbreaker still today. We guarantee you that your dad has cried watching this movie at least once.
We Are Marshall (2006)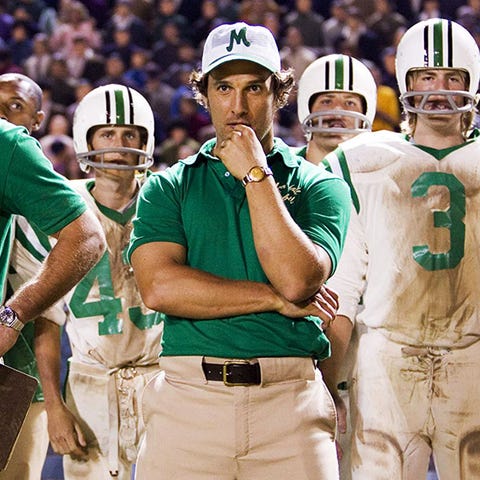 Matthew McConaughey wasn't yet in the midst of the McConaissance when he shot this inspirational true-life drama about a coach forced to rebuild after a devastating plane crash kills dozens of players, coaches and boosters. But you can feel the depth and sensitivity that would soon find him accepting the Oscar for Dallas Buyers Club.
All the Right Moves (1983)
Sort of an early Varsity Blues, but grittier, and with a far more convincing lead actor. It's a "high school football is too important" movie that has the distinct advantage of an impossibly young Tom Cruise in the lead role. Cruise was a little bit more vulnerable back in 1983, and it totally works here.
Any Given Sunday (1999)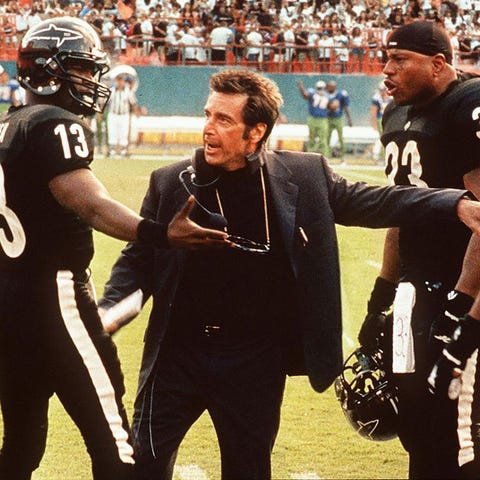 Al Pacino chews the scenery while delivering volcanic locker-room speeches. Director Oliver Stone goes gonzo while detailing the corruption within professional football. Any Given Sunday may not be the most accurate NFL film — dear lord, somebody loses an eyeball on the field — but it does capture the oversized egos, athleticism and drama of the game.
Remember the Titans (2000)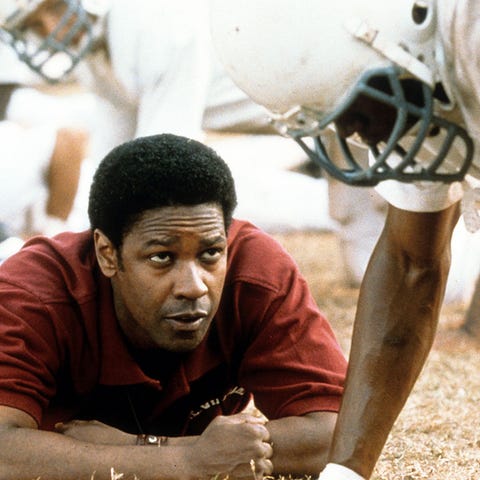 If you're going to have a big Inspirational Coach football movie, it helps to have Denzel Washington as the coach. He has an authority and presence that elevates every scene of this drama: You'd run through a wall for Denzel and, honestly, who wouldn't?
Silver Linings Playbook (2012)
Sports may not be central to this crowd-pleasing hit, but don't tell that to Pat (Bradley Cooper), the extreme Eagles fan dealing with personal problems while falling in love with the widowed Tiffany (Jennifer Lawrence). Few films get the frantic, unabashed agony/ecstasy of football fandom as right as this one.
The Longest Yard (1974)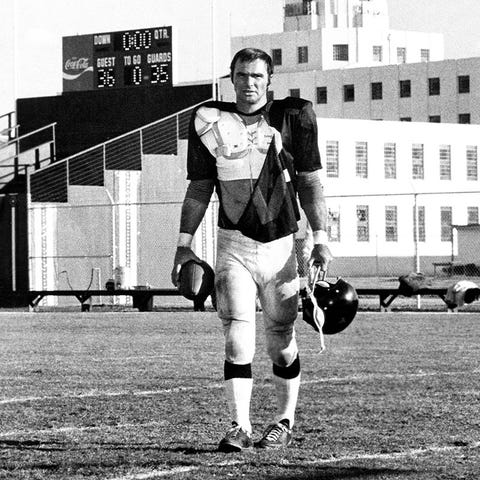 Please ignore the Adam Sandler remake; seriously, forget it ever happened. Instead, enjoy this grimy, ugly, very funny (and even sort of inspiring) prison thriller featuring Burt Reynolds at the absolute peak of his powers. It was never more fun to cheer for the inmates.
Rudy (1993)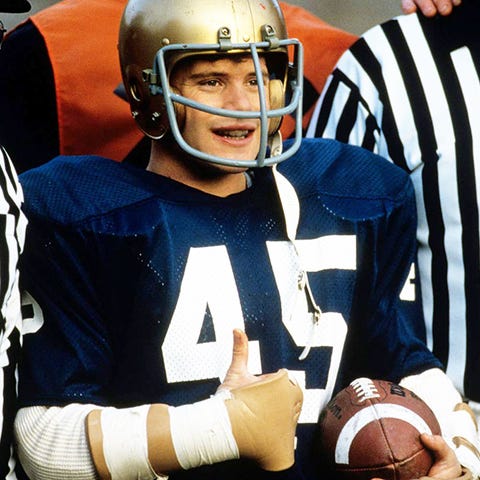 Sure, at the end of the day, you're cheering a guy for simply getting in the game. But of course, most of us aren't superstars or overwhelmingly athletically gifted. We just work hard and put in the effort and try to hang on to our dreams … and hope someday it pays off. The inspiration of Rudy isn't that he gets in the game. It's that by doing so, we all do.
You can check out the latest casting calls and Entertainment News by clicking: Click Here
Click the logo below to go to the Home Page of the Website
Click the logo below to follow ETInside on Twitter
Click the logo below to follow ETInside on Facebook

Click the logo below to follow ETInside on Instagram

Click the logo below to follow ETInside on Pinterest

Click the logo below to follow ETInside on Medium