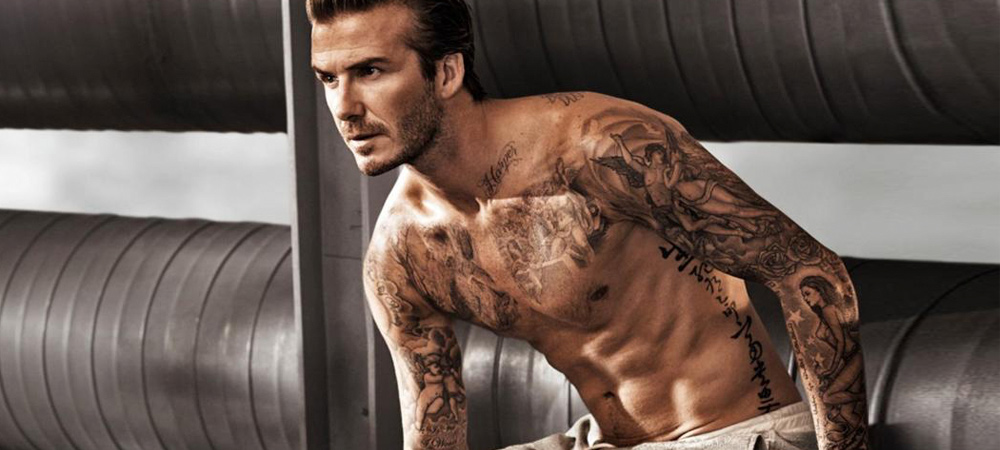 David Beckham is a man who deserves a knighthood for his services to football: fact. But if we had our way we'd add services to men's fashion, grooming and hairstyles to that list too. A lesser appreciated addition to this all-round #goals of a man's CV is his ink: David Beckham's tattoos aren't the kind you regret two years after your holiday in Malia, they're fine art.
They're not few and far between, either: at last count Beckham's tattoo tally stands at over 40 and the man shows no signs of slowing down, though free skin does seem to be diminishing rapidly. Here we run through Beckham's most badass tattoos and explore the meaning behind his most badass inches of ink.
The Solar System
What does a tattooed man do when he's running out of real estate on his torso? He uses his head. Beckham's latest tattoo shows the solar system on the side of his scalp, a spot that guarantees no buyer's remorse because it can easily be covered by a new hairstyle. Quite frankly it takes (golden) balls to commit to getting anything tattooed to the side of your head, let alone planets in orbit, and for that we salute you, Becks.
The Rose
On the birth of his daughter, Harper, Beckham thought paid tribute to his youngest child by getting the words "Pretty Lady" and "Harper" tattooed on the right side of his neck. After a bit of time and consideration, Becks reportedly didn't deem the tattoo to be sufficient to reflect his level of feeling towards Harper. So, as any decent dad would, he decided to add a massive rose above the previous body art. It looks cool AF, you can't miss it, and it stops just short of that famous razor-sharp jawline meaning that Beckham's A-star grooming game isn't interrupted.
The Roman Numerals
For the layman, Roman numerals in tattoo form is hardly something to get all fired up about. But, for those with even a rudimentary grip of said numbering system and a grasp of basic logic will know that the massive number on Becks's forearm is seven which is the same number on the back of his England and Manchester United shirt. It's a smooth move as far as we're concerned, because they're the only two teams of his footballing career that are really worth dwelling on. Cue furious debate.
The Jesus and The Three Cherubs
Beckham's a man of many talents – he's practically the blueprint for this century's Renaissance man. Connoisseur of Renaissance art was not something we had Becks pegged down for, though. Nevertheless, his left pec comes inked with a Sistine Chapel-worthy image of Jesus and three cherubs which DB himself explains as a reference to his three sons and his hope that they'll care for him in old age. Oh, we appear to have got something stuck in our eyes.
The Guardian Angel
Of all of David Beckham's tattoos the guardian angel located smack bang in the middle of his back is comfortably the least subtle, but its sheer boldness (and the fact that it was one of his earliest inkings) is what makes it one the finest moments in Becks tat history. Later joined by a host of other tattoos (including the names of children Romeo and Cruz above and below) for sheer IDGAF vibes, this one's hard to rival. Go hard or go home and all that.
99 Finger Tattoo
A lot of Beckham's best tattoos are epic in scale and don't shy away from going big on impact: that's not a strict requirement for entry into the Becks tattoo hall of fame though. Case in point is the simple knuckle grazing 99 stamped on the footballer's right hand, which denotes the year David and Victoria officially became The Beckhams™ and also now aligns with Beckham's new grooming brand House 99.
The Victoria
It wouldn't feel right if we didn't shoutout to Beckham's other half in a round-up of his best body art – luckily, one of Beckham's tattoo tributes to his wife is bang on the money. Having previously dedicated art to Victoria's name in sanskrit, he upped the cool quotient by getting a six-inch forearm tattoo of his wife clad in lingerie, which rather speaks for itself.
Lady In A Forest
It's not just Becks's left pec that comes adorned with a bit of culture but his right pec too, which proudly displays an inking of a lady in a forest. The meaning of the tattoo is unknown to all but Beckham's inner circle, but irrespective of the tat's exact meaning (or lack thereof) it just looks like an excellent shout to us.
Swallow
Taken as a whole, the reason why David Beckham's tattoos look good as a literal body of work is the fact that there's a sense of balance to everything that's scrawled on his skin. His hand-sitting swallow tattoo is an old-school counterpoint to his more avant garde art. And unlike the high-impact angel on his back, this is relatively subtle without straying into cliche.
You can check out the latest casting calls and Entertainment News by clicking: Click Here
Click the logo below to go to the Home Page of the Website
Click the logo below to follow ETInside on Twitter
Click the logo below to follow ETInside on Facebook

Click the logo below to follow ETInside on Instagram

Click the logo below to follow ETInside on Pinterest

Click the logo below to follow ETInside on Medium