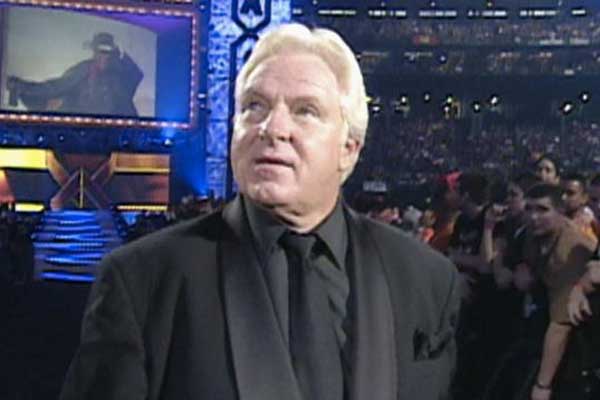 In order to be a legend you have to learn from and study the legends.
A legend today is known for their noted celebrity and larger-than-life accomplishments, whose fame is well-known.
A number of pro wrestling personalities, including Ric Flair and Jim Ross, have commented this evening on the passing of WWE Hall of Famer Bobby Heenan.  Details of his passing have not yet been made public, but he had been dealing with a number of health issues since his battle with throat cancer.
Heenan, 72, was an amazing performer who was a true triple threat – he could wrestle, he could manage and he could announce.  Heenan wasn't just good, but excellent in every role he was ever given in professional wrestling.  It's not a stretch to say he's the greatest manager in the history of professional wrestling.  No less an authority than Jim Cornette has said it.
In the heyday of Hulkamania, when Hulk Hogan was THE name in pro wrestling and the WWF championship was the most important thing in that world, Bobby Heenan was the number one threat to Hulkamania, managing the likes of King Kong Bundy, Big John Studd and most famously, Andre the Giant in an attempt to dethrone Hogan.  Heenan worked the main events of Wrestlemania 2 and 3, managing Bundy and Andre against Hogan.
His broadcast team with Gorilla Monsoon was equally legendary, a duo that did a great job at getting over the stars while also presenting incredibly funny banter that enhanced the product.  They really were the Bud Abbott and Lou Costello of pro wrestling announcing.
Our deepest condolences to his family, friends, fans.  Pro wrestling lost a true measuring stick for greatness today.
You can check out the latest casting calls and Entertainment News by clicking: Click Here
Click the logo below to go to the Home Page of the Website
Click the logo below to follow ETInside on Twitter
Click the logo below to follow ETInside on Facebook

Click the logo below to follow ETInside on Instagram

Click the logo below to follow ETInside on Pinterest

Click the logo below to follow ETInside on Medium