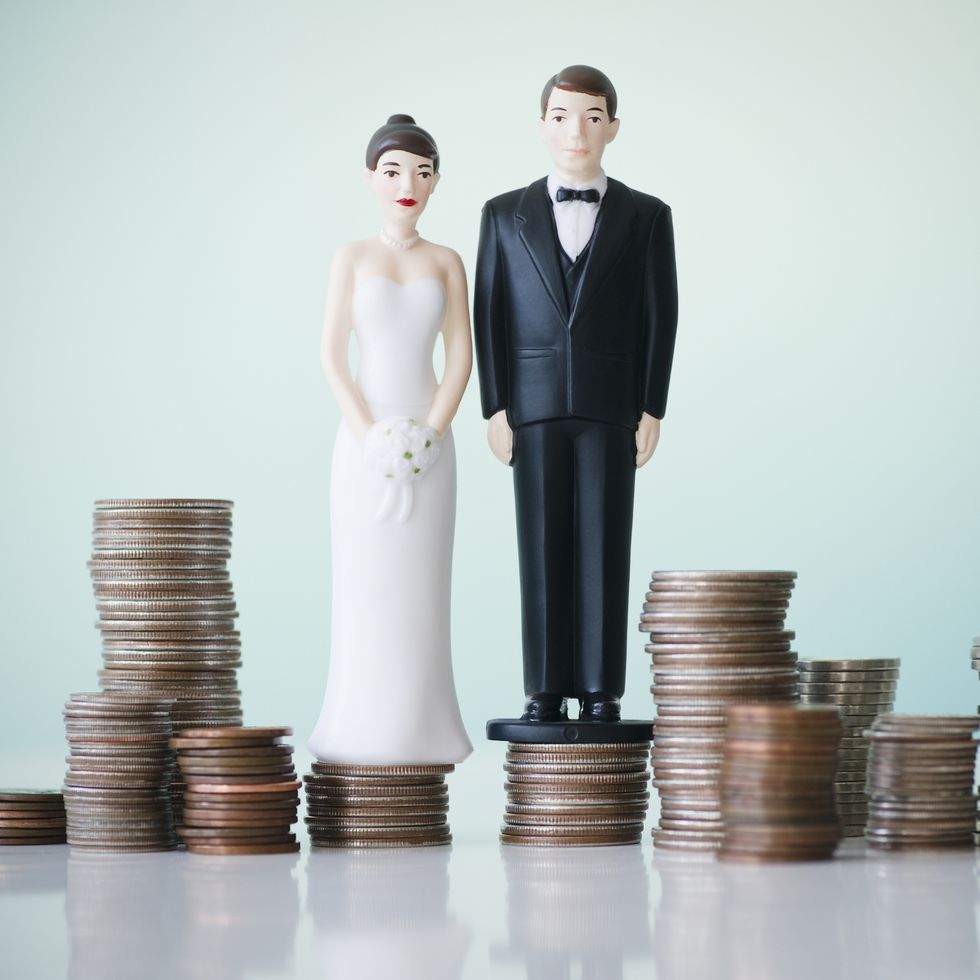 Dating is expensive. Or so common dating sense (and perhaps a whole lot of personal experience) might tell us. But in the game of love and money, we may all be playing ourselves.
Alison Norris CFP, an advice strategist for the online personal finance company SoFi, talks about the new ways couples are saving money. Here's how to get in on the action.
Talk Money
"New couples or anyone who's on the dating scene do themselves a disservice by not bringing up money," Norris says. When almost a third of Americans overspent on dates in 2018, many of those going $500 into the red, money talk may be as important as pillow talk. Americans, however, would still much rather overspend than talk personal finance. In fact, nearly 40 percent of millennials (ages 25-35) would rather disclose an STD to their partner than talk personal debt, making money more taboo a topic than potentially-risky sex.
But talking about money is your first step towards saving, especially when expectations diverge so much from reality. Take today, Valentines Day, a date occasion that will cost men anywhere from $95 to $339 this year — causing them to spend not only double the amount of their partners, but also double the amount that their partners expect them to spend. A simple, tactful conversation can avoid the unnecessary expense.
How do you talk money? Try bringing up the topic by discussing the future, Norris suggests. Don't just talk numbers. Ask your partner what she's saving for, what her future financial goals are. You can learn a lot about what's important to her — along with whether she'll be okay with cheaper dating thrills.
And, turns out, "cheapness" shouldn't be an issue. "We found that the majority of the 2,000 millennials that we surveyed were far more concerned about someone's generosity of spirit than their earnings potential or how much they pay when they're dating," Norris points out. Michelin star restaurant, meet free museum days.
Team Up
Think of your boo as an accountability partner, advises Norris. This is someone who will help you make appropriate financial goals. And as a team, saving money and making goals should be much easier, especially if you (get ready) move in together.
"In this case, one plus one doesn't equal two," says Norris. In other words, your joint expenses shouldn't be more than your individual expenses summed together. And you can take advantage of this logic by sharing everything from a Netflix account, to a shopping list, to even an insurance plan.
That's right, you don't have not be married to take advantage of your partner's health insurance. In fact, it's becoming more common for health plans to accept domestic partnerships, the requirement for which is not federally defined, says Norris. So long as you're living together and sharing expenses like rent, you should be able to qualify.
Another joint venture can be savings funds. If you're just relying on one source of income to gain interest, you're playing the game wrong. A dual income household can help you better invest for potential growth, says Norris. More money, more interest; more interest, more money. Now, 401(k) and chill?
Practice (Legal) Bondage
The prospect of having your finances and investments tied up may make some leery. Fortunately, you can create and sign something called a "cohabitation agreement," a legally-binding contract that stipulates how expenses are to be divided in case trouble comes for paradise. Because nothing quite says "I love you" like a document that says, "sign here and I can, legally, kick you off my Netflix."
But more and more people are doing just this, points out Norris. That's because it's now more common for couples to live together without getting married.
Though this contract business may sound like a terrible (or amazing) E.L. James finance fan fiction, it's just dating in 2019.
So stop going into relationship debt and start making your money work for two. It's nothing personal; it's just math.
You can check out the latest casting calls and Entertainment News by clicking: Click Here
Click the logo below to go to the Home Page of the Website
Click the logo below to follow ETInside on Twitter
Click the logo below to follow ETInside on Facebook

Click the logo below to follow ETInside on Instagram

Click the logo below to follow ETInside on Pinterest

Click the logo below to follow ETInside on Medium