Lisa Marie Presley and Johnny Depp have been making the news recently for their battles with their business managers over vast sums of money that they've lost or spent (or been swindled out of – but that is yet to be determined). Lisa Marie claims she has just $14,000 left in her bank account. These two very famous people are not the first to be in this predicament. Plenty of celebrities have gone broke and/or declared bankruptcy in the past. Let's take a look at 16 of them.
50 Cent
Curtis Jackson, better known by his rapper name 50 Cent, filed for bankruptcy in 2015. He wanted Chapter 11 bankruptcy reorganization for his $36 million of debt with $20 million in assets. His bankruptcy case was dismissed after he paid about $23 million of his debt off. He once had a reported net worth of nearly $500 million. Today he has a net worth of $20 million.
Nicolas Cage
If it seems like Nic Cage is in every other movie that comes out, there is a reason for that: He continues to be a bankable star despite his less than discerning taste in roles. He's even made up to $20 million a film and he has still managed to spend his way through his one time $100 million fortune. While his taste for drugs, alcohol, and gambling didn't help matters, they were not the primary problem in his financial disaster. Cage has wild and uncontrollable spending habits. He owned 15 homes, four yachts, several private islands, and a sabre toothed tiger skull that he paid $276,000 for. He has worked hard to bounce back. He has a current net worth of $25 million.
Anna Nicole Smith
Anna Nicole Smith made her mark (and a fair amount of money) as a model for Guess and Playboy. She branched out into acting and appeared on "Ally McBeal" and "The Naked Gun 33 1/3." She became infamous (and infinitely more wealthy by proxy) by marrying 89-year old oil tycoon J. Howard Marshall when she was just 26-years old. Many people called Smith a gold digger, chief among them her octogenarian husband's children. She was left out of her husband's will and his death would prove to be her financial downfall. Smith endured a lengthy court battle in an attempt to lay claim to half of her late husband's fortune. Smith died of a drug overdose before the case was concluded. Her estate has a net worth of $5 million.
Willie Nelson
Back in 1990, Willie Nelson's properties and assets were seized by the U.S. government. He owed $32 million to the IRS and had been hiding his money in tax shelters. Nelson has since recovered from this debacle with a net worth of $25 million.
Sarah Ferguson
Sarah Ferguson was once married to a prince. Despite this, she's been dogged by financial troubles pretty much her entire adult life. Oprah Winfrey produced a documentary about Fergie's life in which the former Duchess said: "I don't really understand finances at all." She was not exaggerating when she said that. Fergie's downfall is a taste for the high life. She lives far more extravagantly than she can afford and has resorted to shady means to procure the money to fund her lifestyle. Back in 2010 she offered an undercover reporter for a tabloid access to her ex husband, Prince Andrew. That scandal didn't help her in any way and she ended up not only totally broke, but millions of dollars in debt. Today she has a net worth of $2 million.
Evander Holyfield
Evander Holyfield became legendary during his long and successful boxing career. He earned the nickname "The Real Deal" from his fans due to his prowess in the ring. However, outside of the ring, Holyfield was kind of a disaster financially. He fathered eleven kids with six different baby mamas, none of who he is still in a relationship with. Supporting that many children is expensive. Additionally, he ran into big trouble with a number of businesses, racking up debt. In fact, Washington Mutual Bank ended up auctioning off Holyfield's $10 million house in 2008. Today, he has a net worth of $500,000.
Marvin Gaye
The estate of the late singer Marvin Gaye has a net worth of $5 million. In 1976, the Motown legend was getting divorced from his wife of 14 years, Anna Gordy Gaye. Their marriage was the subject of "Here, My Dear." Gaye was left reeling from the divorce settlement; he owed Anna $600,000 in alimony payments. To cover this, he gave his ex-wife the rights to his album "Here, My Dear." Gaye's financial troubles plagued him for the rest of his life. Though he continued to make new albums and perform, he never got ahead. (His drug addiction had a lot to do with that). In 1981 Gaye went so far as to move to Europe to avoid the IRS. Gaye was killed on the day before his 45th birthday in 1984. His father shot him after a heated argument. Today his estate has a net worth of $5 million.
Kim Basinger
Kim Basinger filed for bankruptcy in 1993. At the time, her net worth was $5.4 million. She wasn't broke, but she might have gone broke if she didn't declare bankruptcy. The actress had pulled out of the creepy film "Boxing Helena" and its production company was suing Basinger for breach of contract to the tune of $8.1 million dollars. She later settled the suit for $3.8 million. Basinger kept on acting and modeling and today has a net worth of $40 million.
Cyndi Lauper
Today, Cyndi Lauper is celebrated for her girl anthem "Girls Just Wanna Have Fun" and a string of other hit songs and has a net worth of $30 million. However, her early singing days were a bit rough. For four years she wrote songs for and sang with the group Blue Angel. Their 1980 album "Polydor" failed to make waves on the charts and Lauper filed for bankruptcy in 1981. For the next few years, Lauper dressed up like a geisha and sang in a Japanese restaurant as well as worked retail. In 1983, her album "She's So Unusual" made her a star.
Larry King
These days Larry King has an estimated net worth of $150 million, but that wasn't the case back in the 1970s. In 1972 King was arrested for stealing $5,000 from a business partner. The charges were dropped but King had a hard time finding a job in journalism for many years afterwards. He filed for bankruptcy in 1978 citing $352,0000 in debt. That same year his life started to turn around when CNN offered him a late night radio talk show in Washington, D.C. That show became "Larry King Live" and ran for 25 years.
MC Hammer
MC Hammer was on top of the world in 1990. His album "Please Hammer Don't Hurt 'Em" made the rapper $33 million that year alone. Over then next couple of years, Hammer built up a $70 million fortune—and then blew through it all. In 1996, Hammer filed for bankruptcy citing assets of $1 million and more than $10 million in debts. Unfortunately for MC Hammer, much of his debt was to the IRS. He has spent the past 20 years going back and forth with the IRS over what he owes. As recently as December 2013, the IRS filed a lien against the rapper for nearly $800,000 in unpaid taxes from 1996 and 1997. The State of California had liens against Hammer for $500,197 from delinquent tax returns for 1991-1994. He also owed Alameda County over $230,000. According to recently released legal documents, every dollar that Hammer earns to this day must first go to the IRS before being distributed to him personally. Today, Hammer has a reported net worth of $1.5 million.
Francis Ford Coppola
Director Francis Ford Coppola has filed for bankruptcy twice. The second time, in 1992, he had assets of $52 million with $98 million in debts and liabilities. At the time, Coppola said that the making of the film "One From The Heart" drove him into the proverbial poor house. The movie cost $27 million to make and only made $4 million at the box office. Today, Coppola has a net worth of $300 million from his films, his wines, and his boutique hotels.
Curt Schilling
Former MLB pitcher Curt Schilling had an amazing 19-year career in professional baseball during which he earned $114 million. After he retired, Schilling took a gamble on a video game company. He invested $50 million in the company and lost it all when the company declared bankruptcy in 2012. As a result, he was forced to sell his $3 million Massachusetts home and many of his possessions. Schilling was then diagnosed with cancer. After an eight-month battle with cancer of the mouth Schilling went to work in 2014 at ESPN as an analyst. He has a current net worth of $1 million.
Michael Jackson
Michael Jackson was the most successful entertainer of all time. But even the King of Pop had his issues with finance. In 2007, Jacko filed for bankruptcy when he couldn't pay the $25 million mortgage on Neverland Ranch. Jackson had purchased his home in 1988 for $17 million. The grounds had a zoo, a railroad line, helicopter pads, an amusement park, and its own fire department and it cost more than $10 million each year to maintain. That. coupled with Jackson's proclivity for expensive shopping sprees brought him to the brink of financial ruin. Even after signing a recording contract worth nearly $1 billion in 1991 and selling more than 750 million records, the King of Pop had just 0.05% of his net worth in cash. This left him no option but to file for bankruptcy. The estate of Michael Jackson has a net worth of $600 million.
Mike Tyson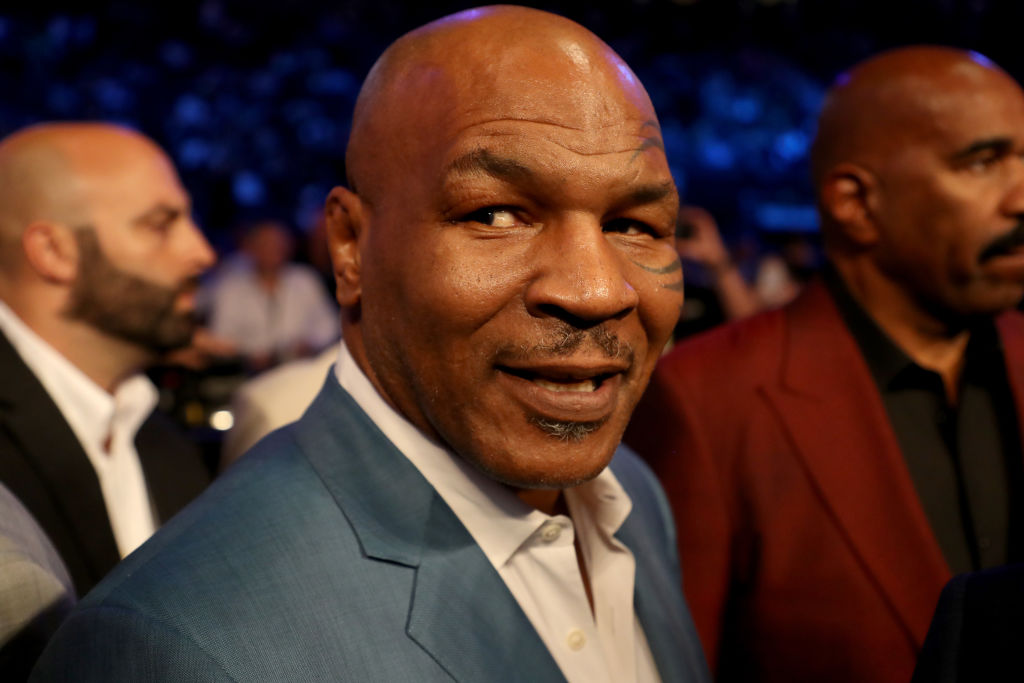 There was a long period of time when no other boxer on earth was as successful or as feared as Mike Tyson. "Iron Mike" won his first 19 pro fights by KO—several in the first round. He soon became the Heavyweight Champion of the world. Then, in 1992, he was convicted of sexual assault and spent three years in prison. He had a hard time mounting a come back when he got out of jail, and biting off a piece of Evander Holyfield's ear in 1997 ended his professional boxing career. Still, he'd made more than $400 million and should have been living on easy street. However, Tyson spent it all on mansions, luxury cars, and even pet tigers. He had a $9 million divorce settlement and owed the IRS $13 million. He filed for bankruptcy in 2003 citing debts of $27 million. Today, Mike Tyson has a net worth of $3 million.
Donald Trump
The President has rather famously filed for bankruptcy under his various entities four times: in 1991, 1992, 2004, and 2009. While it is true that these were his companies that filed for bankruptcy and not him personally, it is still worth looking at. Trump used bankruptcy protection as a means of restructuring the debt of his companies. His businesses have needed significant financial assistance four times in the past two decades. As a result of these bankruptcies, Trump had to forfeit Trump Airlines, a super yacht, and a 50% stake in the Grand Hyatt Hotel. Today, Donald Trump has a net worth of $3.1 billion.
You can check out the latest casting calls and Entertainment News by clicking: Click Here
Click the logo below to go to the Home Page of the Website
Click the logo below to follow ETInside on Twitter
Click the logo below to follow ETInside on Facebook

Click the logo below to follow ETInside on Instagram

Click the logo below to follow ETInside on Pinterest

Click the logo below to follow ETInside on Medium