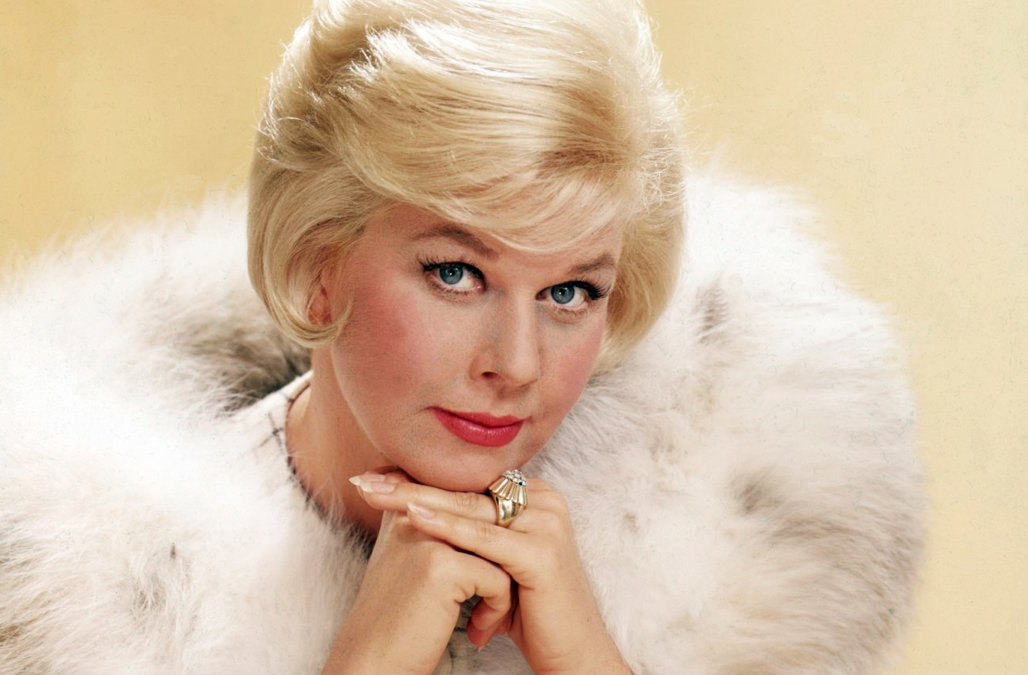 In order to be a legend you have to learn from and study the legends.
A legend today is known for their noted celebrity and larger-than-life accomplishments, whose fame is well-known.
The virginal actress and singer — the pop and jazz vocalist had her first No. 1 hit in 1945 — excelled as the star of breezy romantic comedies opposite the likes of Rock Hudson and James Garner.
Doris Day, the fresh-faced singer and actress who was a ray of sunshine during the 1950s and '60s, when she reigned as the queen of the box office, has died. She was 97.
Day, an extremely popular pop singer and jazz vocalist before Warner Bros. brought her to Hollywood, died early Monday at her Carmel Valley, California, home surrounded by a few close friends, the Doris Day Animal Foundation announced in a news release.
She "had been in excellent physical health for her age until recently contracting a serious case of pneumonia, resulting in her death," it said.
According to the foundation, Day didn't want a funeral or memorial service and wanted to be buried without a grave marker.
One of the most beloved movie stars of all time, Day was widely embraced for her ever-optimistic nature and innocent charm. Among her more than three dozen movies, she typically played a cheerful woman with a buttery voice and winning smile. With her clean-cut blond looks, Day was accessibly gorgeous, with audiences relating to her down-home demeanor.
Most associated with the song, "Que Sera, Sera (Whatever Will Be, Will Be)," the Academy Award-winning tune she first performed in Alfred Hitchcock's The Man Who Knew Too Much (1956), the Cincinnati native received her only Oscar nomination for starring as a career woman who falls for ladies man Rock Hudson in Pillow Talk (1959).
Although she demonstrated dramatic skills at times, Day was best known for her succession of cozy romantic farces. In these whimsical love stories, she usually starred as a woman whose sweetness, despite male trickery or circumstances, always won the day.
In the late 1950s, Day was paired with her era's top leading men and considered the nation's No. 1 box-office attraction. She starred again with Hudson in Lover Come Back (1961) and Send Me No Flowers (1964), with Cary Grant in That Touch of Mink (1962) and with James Garner in the 1963 films The Thrill of It All and Move Over, Darling.
Reflecting the tastes and moral climate of the times, these liaisons were squeaky clean and void of the kinds of lovemaking and sex scenes considered so necessary today.
Day was nicknamed "The Virgin Queen" for the purity of her roles, and composer-pundit Oscar Levant once quipped, "I knew Doris Day before she was a virgin."
"I liked being married [in her movies] instead of the girl who's looking for a guy," she told The Hollywood Reporter in 2011. "I liked those scripts because you fight, and it was all real."
Day also starred from 1968-73 on the CBS sitcom The Doris Day Show as a widow with two young sons who lives on a ranch and works as a secretary at a San Francisco magazine (her character's circumstances changed from season to season).
In 1975, she stunned her fans and Hollywood when she wrote a candid, warts-and-all biography, Doris Day: Her Own Story, in which she debunked her sugarcoated image and said she didn't know she had become attached to the TV series until her crooked husband, Marty Melcher, had died. She also learned she was bankrupt.
A virtual recluse in recent years, the pet-loving Day most recently worked as an animal rights activist, running her foundation. She also owned the Cypress Inn in Carmel-by-the-Sea, a hotel where animals socialized alongside humans during a daily "Yappy Hour" held at the restaurant called Terry's, named after her only child, who died in 2004.
Her foundation said she was born Mary Ann Von Kappelhoff on April 3, 1922 (the year of her birth was confirmed on her birthday in 2017). Her father was an accomplished musician and voice teacher. Day wanted a career as a dancer but at age 12 was involved in a near-fatal car accident and spent many months in and out of hospitals, cutting short her dancing aspirations.
During her convalescence, she turned to singing, soon performing on radio and in clubs and taking a stage name borrowed from her favorite song, "Day by Day."
"I couldn't walk for almost three years. That was the greatest thing that happened," she told THR. "Instead of dancing, I sang. They carried me three times a week up a stairway to my music teacher."
As a songstress, Day attracted a considerable following, winning the attention of leading bandleaders Bob Crosby (Bing's brother) and Les Brown. She traveled the country for roughly eight years with big bands and at age 23 recorded her first major hit with Brown, "Sentimental Journey" — a favorite of American G.I.'s that made it to No. 1 in 1945.
"Apart from having a beautiful voice and command of its every shading, Day's success was based on her approach to songs and audiences," Bruce Eder wrote of the performer on All Music website. "When she sang, she sounded as though she were singing not to a crowd or a mass 'audience,' but to each individual listener. Her records and her performances resonated for listeners personally, and coupled with the considerable merits of her voice and the quality of Brown's band, it made her a huge favorite with almost anyone who heard her." (She was awarded a Grammy for lifetime achievement in 2008.)
Her stage appeal soon prompted other opportunities. In 1948, after an appearance at New York's Little Club, she was asked to do a screen test for Warner Bros. Director Michael Curtiz was so impressed, he cast her as a last-minute replacement for Betty Hutton in the musical Romance on the High Seas (1948).
"No matter what you do onscreen, no matter what kind of part you play, it will always be you," Curtiz was quoted as saying in the 2010 biography Doris Day: The Untold Story of the Girl Next Door. "What I mean is, Doris Day will always shine through the part. This will make you a big, important star."
The camera loved her, and she was quickly put in a succession of pictures, including opposite Jack Carson in My Dream Is Yours (1949) and with Kirk Douglas in Young Man With a Horn (1950). Day won top billing for the first time in Tea for Two (1950), a popular musical set in the Roaring Twenties, and she danced, too.
Day made an about-turn in her next project, Storm Warning (1951), a serious drama about Ku Klux Klan violence in the South. That caught the eye of Hitchcock, who five years later would cast her as Jimmy Stewart's wife in the Morocco-set thriller The Man Who Knew Too Much.
Day then went on to star in four films with singer (and Tea for Two co-star) Gordon McRae, most notably On Moonlight Bay (1951) and its sequel, By the Light of the Silvery Moon (1953). Then came her star-making turn as a famous frontierswoman in Calamity Jane (1953), in which she sang the Academy Award-winning "Secret Love." It was another No. 1 hit for her.
In 1954, Day was cast opposite Frank Sinatra in Young at Heart (1954), then left Warners to star in MGM's Love Me or Leave Me (1955), portraying lively 1920s torch singer Ruth Etting opposite James Cagney. The movie, which included such memorable songs as "Ten Cents a Dance," "You Made Me Love You," "I'll Never Stop Loving You" and the ballad "Love Me or Leave Me," was said to be her favorite.
Following The Man Who Knew Too Much, Day went on to star in the film version of the Broadway hit The Pajama Game (1957), playing the feisty union leader of the Sleep Tite Pajama Factory. Her musical numbers, choreographed by Bob Fosse, included "Small Talk," "I'm Not at All in Love," "Hey There" and "There Once Was a Man."
Day later was paired with Clark Gable in Teacher's Pet (1958), Richard Widmark in The Tunnel of Love(1958), Jack Lemmon in It Happened to Jane (1959) and David Niven in Please Don't Eat the Daisies(1960).
She showed that she could play something other than the girl next door, such as in Midnight Lace(1960), in which she portrayed a woman being terrorized. Later, she starred in such popular fare as Billy Rose's Jumbo (1962), Do Not Disturb (1965), The Glass Bottom Boat (1966) opposite Rod Taylor, Caprice (1967), The Ballad of Josie (1967), Where Were You When the Lights Went Out? (1968) and With Six You Get Eggroll (1968), her last film.
All the while, she kept up her singing career, notably recording Duet, an album of jazz with Andre Previn, in 1961.
In September 1968, she began The Doris Day Show (with the Ray Evans & Jay Livingston-penned "Que Sera, Sera" serving as the theme song) and briefly returned to TV by hosting a 1985-86 Christian Broadcast Network cable show, Doris Day's Best Friends.
During her Cecil B. DeMille Award acceptance speech at the Golden Globes in 1989, she said, "I've been away much too long" and "the best is yet to come, I want to do more." Yet she did not act in another TV show or film again.
Day, however, did release My Heart, a collection of standards and pop hits from the 1960s and '70s that marked her first album in 17 years, in 2011.
After Melcher, her husband since 1951, died suddenly in 1968, Day discovered she was bankrupt. Six years later, she won a $23 million lawsuit against her former lawyer and manager Jerome B. Rosenthal for malpractice but settled with an insurance company for $6 million. The Doris Day Show helped her restore her finances.
Her fourth and final husband was Barry Comden, whom Day met when he was the maitre d' at a Beverly Hills restaurant. They married in 1976 and established a line of pet food, with the goal of establishing a nonprofit animal foundation, but the business unraveled because of a pyramid-type scheme. They divorced in 1981.
Day's first two husbands were trombonist Al Jorden and saxophonist George Weidler; both marriages did not go well and ended in divorce too.
Terry Melcher, her son with Jorden, died of melanoma at age 62. He produced albums for The Byrds including Mr. Tamborine Man and Turn, Turn, Turn and worked with Ry Cooder, The Beach Boys and Paul Revere and the Raiders, among others.
You can check out the latest casting calls and Entertainment News by clicking: Click Here
Click the logo below to go to the Home Page of the Website
Click the logo below to follow ETInside on Twitter
Click the logo below to follow ETInside on Facebook

Click the logo below to follow ETInside on Instagram

Click the logo below to follow ETInside on Pinterest

Click the logo below to follow ETInside on Medium