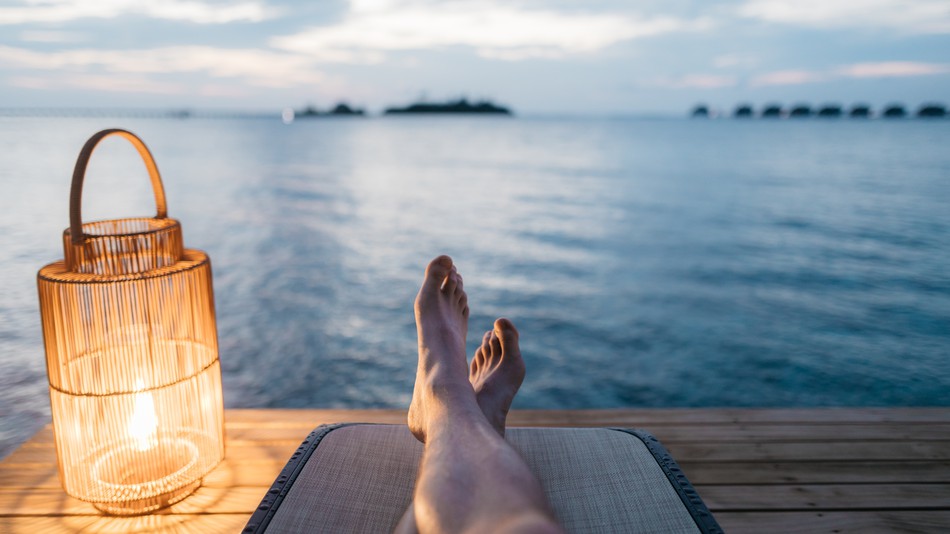 Sometimes when you're traveling or booking a vacation, the last thing you want to do is stay in a hotel. Sure, they're convenient — the whole having someone else make your bed thing is quite nice, tbh — but hotels can also be boooooorrrring.
(It's the persistent sameness of hotels. Such repetition and ubiquity tends to trigger an existential crisis spiral where you begin to question how everything can be so different and yet all the same, like two mirrors that reflect an image ad infinitum, and really what IS anything when you get down to the nitty gritty minutiae of existence, ya know? Wait, that's just me? Cool. Glad we had this talk.)
Fortunately, there are a ton of options for travelers looking for a vacation rentals or really any alternative travel lodging.
Two of the leading platforms for finding alternative lodgings are Airbnb and VRBO. Both are services that connect homeowners hoping to lease out their space with customers looking for short-term rentals, and each are recognizable for a variety of reasons.
Airbnb is known as a Silicon Valley darling, and hosts all kind of listings from tree houses to the underwater research ship featured on Blue Planet II. But the platform has also seen its fair share of controversy, for everything from concerns about affordable housing to fears that Airbnb hosts are spying on guests. Meanwhile VRBO has been a key player in vacationrentals, helping pave the way for home sharing services since the '90s.
And while the two platforms are similar in their core mission — showcasing home listings — each offers different perks and features that could make a big difference when you're planning your next trip.
So which rental site is right for you? Here's what you need to know if you're deciding between Airbnb and VRBO.
The basics
Airbnb
Founded in 2008 originally as Air Bed and Breakfast until a 2009 rebrand, Airbnb is a home rental platform with a simple premise: connect homeowners to customers looking for short term rentals. The idea came from founders Brian Chesky and Joe Gebbia in 2007 after the two were looking to rent space in their San Francisco apartment to help them afford the cost of rent. Later, they brought on Nathan Blecharczyk as chief technology officer, and Airbnb was born. Since its debut Airbnb, along with other services like Uber and TaskRabbit, have been considered a staple of the sharing economy.
VRBO
VRBO is short for Vacation Rental By Owner, and as the name implies, it specializes in vacation rentals of all types: houses, apartments, condos, villas, etc. The site was founded in 1995 and allows homeowners to advertise property listings to renters. In 2006, VRBO was acquired by HomeAway, and joined the HomeAway network which includes other sites like VacationRentals.com.
Types of rentals
Airbnb
If there is one thing that sets Airbnb apart from other platforms, it's the service's extensive host network that offers literally million of listings. In fact, Airbnb announced in 2017 that it hosts more than 4 million listings in over 191 countries. Anyone can become an Airbnb host and rent out spaces as big as a whole house or as small as a shared room.
The platform is also filled with unique and creative home experiences: With Airbnb, users can rent everything from a house created entirely out of Lego bricks to Donald Trump's childhood home (if you're into that sort of thing)
VRBO
Like Airbnb, anyone can become post a listing on VRBO, and the site offers a range of rental types including houses, apartments, castles, tree houses, and more. However, unlike Airbnb, you can only rent entire homes on VRBO, which means it has fewer rentals than Airbnb. (On VRBO's website, it boasts that it has over 2 million rentals worldwide, compared to Airbnb's 4 million.)
Rather than listing smaller spaces like single rooms, VRBO only lists larger spaces — whole houses, condos, or apartments that customers will have to themselves, rather than sharing with the homeowner or other guests. In fact, "don't share" became a marketing point in a 2016 ad about Airbnb vs. HomeAway (VRBO's parent company). So while VRBO offers fewer rentals, users can rest assured that the space they find will be completely theirs.
Reviews
Airbnb
Looking through property details is only one way that Airbnb users can learn about a potential home listed on Airbnb. The site also features an active review culture that lets guests leave their thoughts after their stay, ranking everything from the accuracy of the listing's description to the cleanliness of the property. The site's review section is also searchable, so if you have a particular concern while booking an Airbnb, you can filter reviews to address those worries.
And bonus: the site includes a host community section so that hosts can give each other tips and tricks to successfully listing a property on Airbnb.
VRBO
VRBO also offers a review section that allows users to rate their stay at a particular property. However, the site also allows homeowners to post a response to the reviewer, which is displayed under a given review. This means not only can VRBO users find out more information about the experience of staying at a property, they can also gain more insight from homeowners before they start the process of booking a stay.
Other Perks
Airbnb
When Airbnb first debuted in 2008, it was simply a place to list and search short term lodgings. Now, 10 years after the site's founding, Airbnb has expanded, adding new tools to the service that make it a one stop shop for solidifying travel plans.
In addition to rentals, the company features a pretty robust "experiences" section that allows users to discover activities near their chosen destination. Experiences listed on Airbnb can include everything from walking tours to beach yoga and a hike through a forest with wolves.
Also, in 2017, the service partnered with Resy to allow users to book restaurant reservations directly through the site.
VRBO
Where VRBO shines over Airbnb is its suite of filters. Users can search by location type — beachside, lake view, mountain view, ski rental, and more — as well as more granular property types. (You can filter if you only want to stay in a yacht, for instance). While Airbnb also filters based on location type and property type, VRBOs filters are more comprehensive and robust.
Fees
Airbnb
Airbnb charges both hosts and guests fees. Guests are typically charged five percent to 15 percent of the reservation subtotal. Meanwhile hosts are charged a 3 percent fee every time a booking is completed with Airbnb. And if you're hosting an experience, Airbnb will charge a 20 percent service fee.
VRBO
Like Airbnb, VRBO also charges fees to both homeowners and guests. Guests are typically charged a 6 percent to 12 percent service fee. The service fee is more complicated for homeowners. To list a rental on VRBO, they must pay a subscription fee. There are two primary subscription payment plans available for VRBO hosts: pay-per-booking, in which hosts are charged 8 percent for each booking received through the site (VRBO recommends this option for new renters or people who rent for less than six weeks per year) and an annual subscription payment, which charges homeowners a flat $499 fee up front for the year (The company recommends this option for year round hosts).
So which one should you choose?
That depends on which kind of trip you're looking for. Considering the flexibility of rental type, the extensive host network, and the suite of "explore" features, Airbnb may be better for anyone dedicated to a more adventurous trip.
However, if you're committed for a full vacation, a true escape for yourself, VBRO may be better suited for you. Of course, that's not a hard and fast rule, and each website offers a range of tools and rentals that'll help you book the dream trip.
You can check out the latest casting calls and Entertainment News by clicking: Click Here
Click the logo below to go to the Home Page of the Website
Click the logo below to follow ETInside on Twitter
Click the logo below to follow ETInside on Facebook

Click the logo below to follow ETInside on Instagram

Click the logo below to follow ETInside on Pinterest

Click the logo below to follow ETInside on Medium