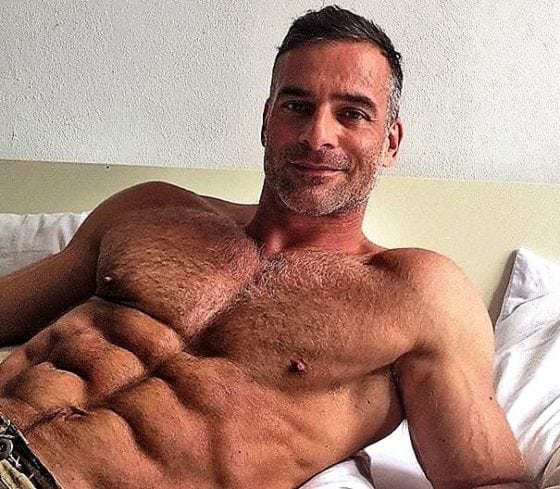 We don't always choose who we fall in love with, to the point that sometimes we find ourselves falling for an older man.
For most it isn't a taboo subject or out of the ordinary as most parents also share a 12 year plus age gap.
Most people think that dating an older man (or calling him a Sugar Daddy) should have financial consequences attached to the relationship. Seeing that most ETI readers are independent and wouldn't sell their souls or bodies with a dollar sign attached to it, we will assume that anyone reading this is actually looking to make a connection with someone.
So here is our advice to any man or woman who is thinking about getting serious with an older men.
---
1. An older man is more likely to talk about his feelings
Even if they may not open up straight away, they have more of a tendency to take their time to gather their feelings and maturely sit down with you and discuss the matter in hand. Men, in general, tend to have difficulty in communicating their feelings, but older men understand its importance and they take the time to try and discuss things with you.
---
2. An older man can help you expand on your individuality
Almost to the extent where they help you develop who you are and come out of your shell to find your true identity. They have already been through this period of growing up and finding themselves, and realize the advantages of embracing their true self. Therefore, they are understanding and supportive in helping you find yourself and being sure of who you are.
---
3. An older man truly appreciates your individual beauty
With age, they have learned to appreciate inner beauty in preference to exterior, and they're capable of looking past your bed hair or imperfections to truly love you for who you are. They have seen and experienced what age does to the body as well as learned to value a long-term beauty over short-term youth.
---
4. An older man is your rock
They generally have more assurance developed from their experiences and knowing where they are going. Therefore, it is more clear where you are going and their intentions. As they have already lived through a lot, they are ready for you to turn to them when and if you need to.
---
5. An older man will be stimulated by your youth
When we are young, we tend to be more outgoing, excited, and stimulated by so much more. Just like laughter, this can be contagious and there is no better feeling than feeling young again.
---
6. An older man plans for the long term
They have lived their youth and freedom and therefore have more of a tendency to want to settle down and meet "the one." Therefore, they won't waste your time as they won't invest their time in something that won't last.
---
7. An older man is a lot more attentive
They have had more time to understand what a woman likes and how to treat her. Their values have also changed, and they will spend more time showing you how much they care, rather than just saying it, as actions speak louder than words.
---
8. An older man is more respectful of exes
They may have already loved and lost, been through a divorce, or even have children from a previous relationship meaning they are more respectful and understanding of exes. He will be open to any contact made with them as he would expect you to do the same.
---
9. Older men are independent
This not only allows you not to lose your independence but also means they are most likely financially independent and value themselves and free time as he would expect you to value yours.
---
10. Older men have more experience under the sheets
Having lived and learned, they know exactly what buttons to press. What else could you ask for?
You can check out the latest casting calls and Entertainment News by clicking: Click Here
Click the logo below to go to the Home Page of the Website
Click the logo below to follow ETInside on Twitter
Click the logo below to follow ETInside on Facebook

Click the logo below to follow ETInside on Instagram

Click the logo below to follow ETInside on Pinterest

Click the logo below to follow ETInside on Medium