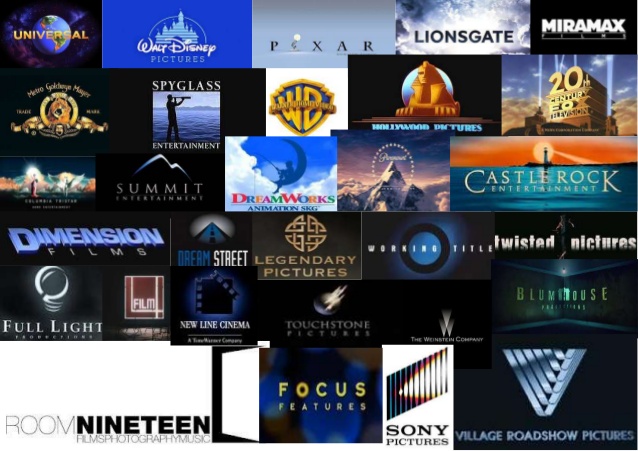 We at ETI offer an insider's guide to the (sometimes silly) art of naming your production company. This may be the single most important decision you'll make in Hollywood. It can require more skill than naming your children (see: Plan B vs. Shiloh Nouvel). Your company's name must communicate nothing less than your corporate ethos, whether you make tentpoles, chick flicks or genre films, and how you personally see yourself within the firmament of show business.
Lucky for you, production company names divide neatly into subtly exclusive clubs. There are several recommended approaches, after the jump.
Start with your name. Some of Hollywood's biggest producers have gone the straightforward route. Jerry Bruckheimer Films. Laura Ziskin Prods. Scott Rudin Prods. The message? I'm so busy making major motion pictures, I don't have time for clever names. Note: This can backfire (The Weinstein Co.).
THE NAME GAME
Unfortunately, it's not as simple as just using your actual name. The film business is filled with creative people who graduated from Brown and Wesleyan. Your name might seem unimaginative to them. Therefore it's acceptable to engage in wordplay: Scott Free Prods. (Tony and Ridley Scott), Rat Entertainment (Brett Ratner), Mirabai Films (Mira Nair), Silver Pictures (Joel Silver) and Cube Vision (Ice Cube) are examples. Up the whimsy by spelling your name backwards, Harpo Studios (Oprah Winfrey). Or reference others who share your name, 1492 Pictures (Chris Columbus).
A riskier, but also effective, move can be to create an alter ego. To accomplish this, create a name that sounds like an inside joke with Charlie Kaufman. Try Ghoulardi Prods. (Paul Thomas Anderson), Mr. Mudd (John Malkovitch), Bad Hat Harry (Bryan Singer) or Gary Sanchez Prods. (Will Ferrell). You can also play against type: Clyde Is Hungry Prods. belongs not to playful sounding Clyde, but to dour, menacing Sean Penn.
GETTNG NEIGHBORLY
Your production company isn't just an LLC with backing from your aunt's fifth husband. It's a home. A home where scripts are sheltered, from studio notes and intellectual property lawsuits. Names like Picturehouse (HBO and New Line) can evoke a homey feel for talent and filmmakers. But you don't want anyone getting too cozy. When creative types get comfortable, they disagree with you. Mix the reaffirming "house" label with something more unnerving, like Ghost House (Sam Raimi), Smoke House (George Clooney) or Dickhouse (Spike Jonze). Also see Dark Castle (Joel Silver), Castle Rock (Rob Reiner).
You can also name your company after an imaginary assisted living community or suburban cul-de-sac, like Shady Acres (Tom Shaddyac), Lakeshore (Tom Rosenberg) or Overbrook (Will Smith).
If a neighborhood seems too small, pick an entire town, as in Montecito Picture Company (Ivan Reitman), Bedford Falls (Ed Zwick and Marshall Herskovitz) or South Fork (Robert Redford). Think in Midwestern terms, but not Detroit.
A street name can also be effective, while helping visitors, and employees, remember your address. 34th Street Films (Tyler Perry), Trigger Street (Kevin Spacey), GreeneStreet (Fisher Stevens, John Penotti). Use roads for a less "urban" effect: Weed Road (Akiva Goldsman), Thunder Road (Basil Iwanyk).
(FAUX) CORPORATE
Ever since Gulf+Western bought Paramount in the mid-1960s, it has become fashionable to complain that the movie business has become "too corporate." This sentiment will ingratiate you with filmmakers, but seem disingenuous when you sign your wildly lucrative overhead deal with Rupert Murdoch. One strategy for sounding edgy while anticipating bigger things to come is to pick a "corporate-sounding" name that actually makes fun of corporations. Conan O'Brien posed as a sympathetic, jilted outsider while pocketing millions from NBC. His company? Conaco. Others laughing all the way to the bank: Worldwide Pants (David Letterman), Playtone (Tom Hanks and Gary Goetzman), Broadway Video (Lorne Michaels), Mutual Film Co. (Mark Gordon and Gary Levinsohn), ImageMovers (Robert Zemeckis).
SUPERLATIVES!!!
In the movie business, confidence is key. Use a superlative to show you've got what it takes. Legendary Pictures (Thomas Tull), Killer Films (Christine Vachon), Superb Entertainment (Meryl Poster), Larger Than Life Prods. (Gary Ross), Indelible Pictures (Art Linson), Original Films (Neal Moritz) and Unique Features (Bob Shaye and Michael Lynne) are all good. Don't communicate that you're just okay, Darn Good Films (Nick Cassavetes).
Also see loud names: POW! Entertainment (Stan Lee), Decibel (Danny Boyle).
MODESTY
Self-deprecation works in Hollywood, as long as you're wildly successful. Being an A-lister and pretending to have "no idea how it all seems to keep working out" is endearing (see: George Clooney). If you're the director of one of the highest grossing franchises in film history, specializing in incredibly complex special effects, call your company Wingnut Films (Peter Jackson). If you're the only actor besides Will Smith or Tom Cruise who can open a blockbuster, call your company Plan B Entertainment (Brad Pitt). If you direct, produce and edit all your films, moving fluidly from big budgets to experimental indies, go with Section 8 Prods. (Steven Soderbergh). If you redefined modern comedy, paving the way for Judd Apatow, there's always Conundrum (Peter and Bobby Farrelly).
BEING GENERIC
If you traffic in a particular genre, name your company appropriately—Blossom Films (Nicole Kidman), Egg Pictures (Jodie Foster), Flower Films (Drew Barrymore), First Kiss Prods. (Alicia Silverstone). Alternately, Mutant Enemy (Joss Whedon), Cruel and Unusual Films (Zach Snyder), Bad Robot (JJ Abrams), White Knuckle Pictures (Brett Ratner and Nick Meyer).
Technical jargon can communicate wonky expertise. Depth of Field (Chris and Paul Weitz), Untitled Entertainment (Jason Weinberg), Storyline (Neil Meron and Craig Zadan), Working Title (Tim Bevan and Eric Fellner).
GOING ROGUE
Hollywood likes iconoclasts. Associate yourself with a Goddard or Peckinpah film, like A Band Apart (Quentin Tarantino) or Wild Bunch (Vincent Maraval). Or choose a rambunctious name like Troublemaker Studios (Robert Rodriguez), and base your company somewhere remote, like Texas.
GETTING AWAY FROM IT ALL
Film types are known for their volatile tempers. Calm them by naming your company as you would a Celestial Seasonings tea, like Irish Dream Time (Pierce Brosnan). It's also popular in Hollywood to refer to filmmaking as "a craft": Indian Paintbrush (Stephen Rales), Hand Made Films (George Harrison), Handprint Entertainment (Benny Medina), Mosaic Media (Jimmy Miller).
If you want to make big pictures, incorporate a gauzy omniscient tone that sounds as if your company transcends the very medium of film itself and instead seeks to pursue larger questions about culture, religion, science and humanity: Imagine Entertainment (Ron Howard and Brain Grazer), Icon Entertainment (Mel Gibson and Bruce Davey), DreamWorks (Steven Spielberg, Jeffrey Katzenberg and David Geffen), Relativity Media (Ryan Kavanaugh).
Ancient things also sound weighty, and bankable. Appian Way (Leonardo Dicaprio), Amen Ra (Wesley Snipes), Sikelia (Martin Scorsese), Ad Hominem (Alexander Payne). If you're too busy to Google up such a musty moniker, one suggested short cut is to add -opia or -opolis to the word of your choice: Necropia (Guillermo del Toro), Storyopolis (Rob Weisbach), Centropolis (Dean Devlin and Roland Emmerich).
But there's no scientific formula to producing movies. Or is there? Trillium Prods. (Glenn Close), American Zoetrope (Francis Ford Coppola), Industrial Light + Magic (George Lucas).
THE LAZY
Whatever you do, try not to name your production company after a couple films you once made in the '90s. It seems like you were too lazy to think of anything else. Happy Madison (Adam Sandler).
You can check out the latest casting calls and Entertainment News by clicking: Click Here
Click the logo below to go to the Home Page of the Website
Click the logo below to follow ETInside on Twitter
Click the logo below to follow ETInside on Facebook

Click the logo below to follow ETInside on Instagram

Click the logo below to follow ETInside on Pinterest

Click the logo below to follow ETInside on Medium