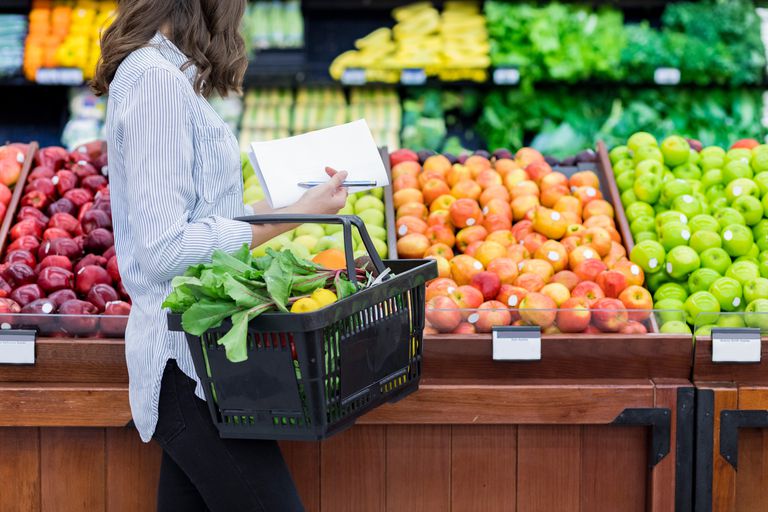 We've all gone to the grocery store for two things – and walked out with a cart full of snacks we didn't exactly need. Here's how to plan your next trip for a smarter haul.
1. You forgot to eat lunch
Yes, you may have heard the "don't go grocery shopping when you're starving" thing before — but there's a good reason for it. Not only are you susceptible to overspending, but you're also more likely to overeat what you do bring home. So whenever you're heading to the store, make sure you've had a snack or a meal first — your wallet and waistline will thank you.
2. You're unprepared
3. You start on aisle #5
Bear with me: There's a strategy to the way a supermarket is laid out. Shopping the perimeter first loads up the cart with the good stuff like fresh fruits and veggies, dairy products, and often whole grains. Then, the chips, cookies, crackers, cakes, and soda that line the inner aisles have less room to squeeze into. This theory also applies to mealtime, too: Fill your plate with with these healthy items, and leave whatever "room" you've got left for dessert.
That said, hit up perishable or frozen items last: That'll help keep the food you're prepping stay at the appropriate temperature. Safety first!
4. You beeline for the deli counter
I'm always in favor of a good, healthy sandwich — but not all deli meats (and cheeses!) are created equal. Many can come loaded with sodium, so even if it's something lower in fat (like turkey), it may still be chock-full of salt. The better bet: Rotisserie chicken or roast beef. To top it off, pick reduced-sodium cheeses, or swap those slices for 2 tablespoons of hummus or a couple slices of avocado.
5. You're only shopping "organic."
Sure, buying organic foods can be beneficial and sometimes safer. But keep in mind it's most important to buy food that's healthy. Don't let the fact that a food is part of the "dirty dozen" (like spinach or kale) keep you from just buying the regular version if your budget doesn't allow for organic right now. All or nothing attitudes for food and health may not be 100% sustainable for your lifestyle 100% of the time. (Plus, organic food may not be worth the skyrocketing costs.) The bottom line is that some veggies always beat no veggies in your cart!
6. You skimmed the nutrition facts — but not the ingredients
Fruit juice concentrate and puree aren't technically added sugar according to the FDA, but they add extra calories to a food item you could eat in a more nutritious form. For example, look for fruit-based products that say "mangoes" or "strawberries" as the first ingredient instead of mango or strawberry puree, and avoid ingredients like "apple juice concentrate."
7. You've stocked up on the wrong things
I'm looking at you, "lower-calorie," "reduced fat," and 100-calorie packs. Let me explain: Those tiny packs are often unsatisfying empty calories, so you're more likely to blow through a couple at once. If you're looking for a snack that will give you a real energy boost, go for protein and fiber combos, like fruit with peanut butter or cheese with whole-grain crackers.
And the same goes for low-cal and reduced fat items. Without the fat, they're often not as filling so it's easier to overdo it. Also, when you remove the fat, it's typically replaced with something — usually sugar. (Frozen yogurt is the worst culprit.) Unless you're choosing items that cut down on fat without added sweeteners or fillers (good examples include light mayonnaise, low-fat milk, or popcorn made with less oil), you may be better off with the real thing.
8. You're skipping the freezer aisle
Sure, you're avoiding the temptations of ice cream, pizza, and a slate of other treats that remind you of childhood. While I can't fault your risk aversion, you're missing out on some frozen gems. They shouldn't be the bulk of your grocery list, but frozen fruits and veggies along with breads, waffles, and pancakes made from 100% whole grains, and even a single-serving ice cream sandwich can help you make smarter choices.
9. You skipped the canned goods
10. You bought it "on sale."
11. You didn't make an impulse purchase.
Listen, those little last-minute buys at the checkout line (including the latest issue of Good Housekeeping!) can be well worth it — if you do it right. You've already got a cart full of good foods you need, and none of the bad stuff you don't. So it's okay to buy a single-serving chocolate bar or candy. Why? Because when you skip large quantities of fatty processed foods, sugary beverages, and other sneaky stuff, you leave room for a smart indulgence that satisfies your sweet tooth and won't make you feel deprived. So, enjoy!
You can check out the latest casting calls and Entertainment News by clicking: Click Here
Click the logo below to go to the Home Page of the Website
Click the logo below to follow ETInside on Twitter
Click the logo below to follow ETInside on Facebook

Click the logo below to follow ETInside on Instagram

Click the logo below to follow ETInside on Pinterest

Click the logo below to follow ETInside on Medium