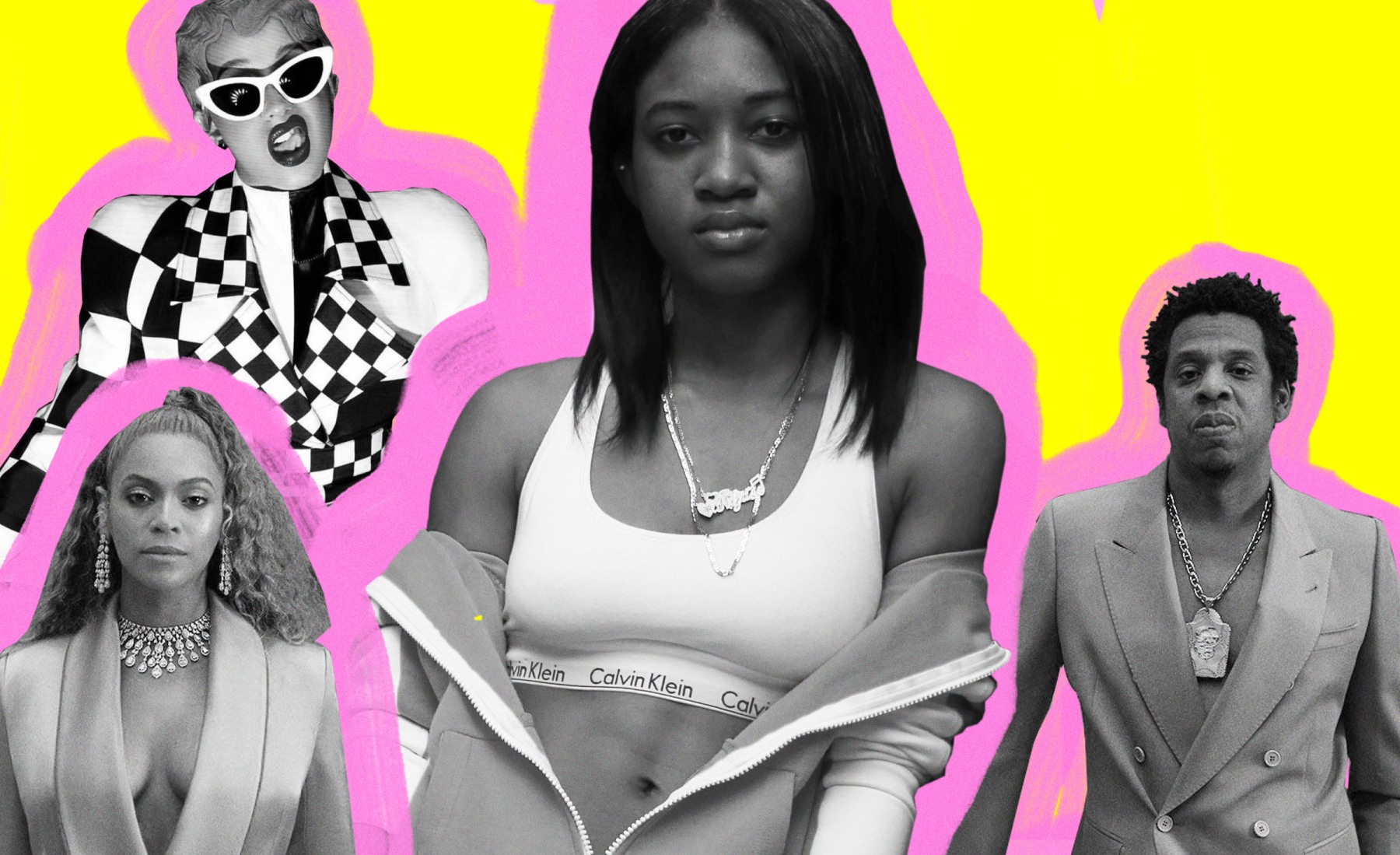 At 21 years old, Nija Charles has already done what many songwriters would consider a career peak: She wrote two songs for Beyoncé. "[Producer] Wondagurl's manager, Brandon Kitchen, got a few of my songs over to her team. She heard them, loved them and she wanted to bring me on to the project," she says to the FADER over the phone from L.A., still sounding awestruck. The songs, "LoveHappy" and "Heard About Us," appeared on Beyoncé's much hyped joint album with Jay Z, Everything Is Love.
Such occurrences have become what Nija calls her "new normal"; over the last two years, songs she's worked on have been recorded by Kid Ink, Flo Rida and Chris Brown. But things really ramped up when work she did ended up on Cardi B's breakthrough album Invasion of Privacy earlier this year, both — "I Do" featuring SZA and the Kehlani-guesting "Ring" — ended up in the Top 40 on the Billboard Hot 100.
Growing up in New Jersey, Nija started talking production and songwriting seriously when she was 13. After fulfilling a promise to her mom that she'd get all A's at school, she was gifted a Casio keyboard and she started making beats; in 2016, she enrolled at New York University's Clive Davis Institute of Recorded Music, but her schooling was short-lived when her career started to accelerate.
Still, Nija seems grateful but unfazed by the sharp trajectory of her career. She gives considered and laconic answers to questions, hesitant to reveal too much about what she describes as "the game" of the music industry. Her precaution is savvy. Despite her age, Nija Charles is proving herself to be quite the player.
ETI: What are some of your earlier musical memories?
My mom made it mandatory in our house that my sister and I had to learn one instrument. I started off playing the flute in third grade. I'm a short girl and I had short fingers, but I didn't really want to play the flute at first — I wanted to play the saxophone. But because my fingers were so small, I had to play the flute instead. I just wanted to learn to play all different instruments. I learned to play the piano a little bit by ear.
ETI: You got into production by watching your aunt and uncle playing around with Fruity Loops.
Yeah, I'd say I was seven or eight. I used to hang with them down in my grandmother's basement while they were making beats. I hassled them until they let me try it out. I wasn't really good at that time.
ETI: Is it true that you started doing toplines and melodies to help sell your beats?
I was just trying to figure out ways to get my beats heard. I realized that people don't go on Soundcloud looking for beats — people want to hear songs. I thought that if I sung on my beats, they'd have a better chance of being heard and people would realize that I'm the producer. But it ended up working in the opposite way: they thought I was the singer. Producers would see the snippets that I'd put up on Instagram and DM me asking if I could topline on their beats, too. I was writing, like, ten songs a day from all the beats I was getting.
ETI: I've never heard of artist using Instagram as a tool like that.
I don't think I was doing it purposefully. It's just part of life, y'know? We don't realize how much we're on it as a society. We use it as a guide. It's a quicker way for us to get access to people across the world.
ETI: What was the decision to leave NYU and go and work in the industry full-time like?
It happened because I basically had an ultimatum. At NYU, for some reason they made it mandatory in my year to study abroad in Berlin. They said I had to either go there or take a leave of absence. I just didn't see myself going to Berlin. They were saying that Berlin was going to be the new Mecca of music, but stuff was starting to pick up here. I trusted my gut feeling and didn't go. The main thing was convincing my mom that I could take a break from school. But it wasn't a hard decision for me at all. She just really wanted me to get my degree.
ETI: You've said before that you draw inspiration from the music that you listen to. Tell me about how listening to music helps you push into something new creatively.
Every artist has something different in their songs. When I listen to songs that I love, I can take a piece from that and it helps me with my writing style. Subconsciously, it creates something new with what I'm doing. From the first day that I started listening to music, everything becomes a new creation.
ETI: Without realizing it, you incorporate what it is you've heard into what you're doing.
It happens with all musicians. Stuff inspires us and we don't even know it.
ETI: Has there been anything recently you've been super inspired by?
[Ariana Grande's] "God Is A Woman" — I love that song. Also, I love serpentwithfeet. He's a breath of fresh air, mainly because I feel like recently there hasn't been any timeless music. I was getting bored with what's out, and then I came across him. At first his melodies were so jarring but weird. It was fresh.
ETI: How did the Cardi B collaborations come about?
Through Andrew Grant at Warner Music. He flew me out and it was a session that had Needlz and Scribz Riley. I'd never met these people in my life. They made the beat — I think I might've even been taking a nap while they were doing it. Once they said they were done, I got in the booth and did my thing. An A&R named "Success" actually placed the record and the song was taken to Cardi's people and they loved it.
ETI: In that case, did you know that it would go to Cardi's people?
We just made two songs that night. It was just us making what felt good and then figuring out the rest later.
ETI: It's wild that you didn't know "I Do" would be on the record until a week before the album came out.
Yes! It was so crazy. I probably wouldn't have known if they hadn't called and asked for the lyrics [Laughs].
ETI: Is it true you didn't hear the version with SZA until the album was out?
Yeah! I had no idea what the finished versions of "I Do" or "Ring" sounded like. I didn't even hear the full version of "I Do" initially — I just heard a snippet on Twitter. At first I thought they'd kept me on the song, because that's how well SZA did it. She made it her own but she didn't change it drastically at all.
ETI: What are you like in the studio? Do you have stuff you need to do when you're there?
Going in with a clear head. It's not a ritual, but it's a different mindset for urban and pop. For pop, you're usually starting from scratch. I'll just have a musician play chords, and the chords are what inspires a feeling. With urban music, because it's such a drum genre, I need to feel the whole beat before I go in the booth. It just needs to evoke a kind of feeling. I'll just tell the producer to play through a couple of beats, and whatever one sparks something in my chest is the one that gets loaded up — and I see what comes out.
ETI: Have you found that you prefer doing pop or urban stuff more?
No, because I need a switch-up. If you do the same thing all the time, you get bored of it. I need a balance. I grew up with urban, so that's always going to be in my heart. But pop is great.
ETI: Is it usually the case that you're put in sessions to just write songs rather than writing for a specific artist in mind?
Unless I'm in with the artist or I set aside a day to work on material for one specific artist, I usually just go in and make songs based on how I feel. I don't think about who I'm doing them for, because that pigeonholes me. I try to make songs that I would want to listen to and then afterwards figure out who would sound good on it. Artists always want something that either no one else can do, or something that they've never heard before — something different. Me thinking about how an artist would do something is giving them what they're used to. I'd rather do what I want, and if they like it, they can put their own twist on it.
ETI: When you worked on the songs for Beyoncé and Jay Z, did you go out and meet them?
I can't really talk about that.
ETI: I read that the album was still being put together days before its release. What was that experience like for you?
I'll pass on that one, too.
ETI: Can you tell me about the inspiration for "LoveHappy"?
It came from Beyoncé and Jay Z. I was bumping Lemonade and 4:44 just like everyone else. I think it was brave of them to put their business out in the public like that, and to go through so much pain in the public eye. I tried to imagine what it was like and how strong they must have been to be able to overcome the struggle — to stick together and pull through.
ETI: Were you surprised when you heard what the songs sounded like when they were finished?
Yes, I was. With "LoveHappy," I didn't even know I had that song on there. I thought that I only had "Heard About Us." Then someone on Twitter was like, "Yeah, and she wrote 'LoveHappy,' too." With "Heard About Us," [Beyoncé] played it to me as soon as she'd recorded it and I was just like, "This is the best day of my life! I, Nija Charles, got Beyoncé to sing 'skrt skrt' in falsetto."
ETI: Tell me about what you've been up to with Normani.
I love her. We've worked a few times and I'm just so happy for her. The music that we've been working on I'd describe as New Wave, feel-good R&B. But I know she wants to get back to her New Orleans roots and incorporate that into her sound.
ETI: What's been the biggest learning curve for you?
Learning how to play the game.
ETI: Do you have plans to start producing again?
I'm getting back into it, definitely. That's where I started and I took a long break to focus on the songwriting. Now I realize that I can have a hand in both creatively, so why not?
You can check out the latest casting calls and Entertainment News by clicking: Click Here
Click the logo below to go to the Home Page of the Website
Click the logo below to follow ETInside on Twitter
Click the logo below to follow ETInside on Facebook

Click the logo below to follow ETInside on Instagram

Click the logo below to follow ETInside on Pinterest

Click the logo below to follow ETInside on Medium